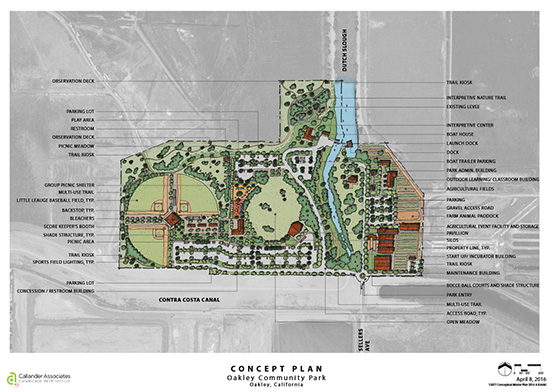 On Tuesday, January 8, the Oakley City Council will hold a Work Session on a 55-acre community park.
On New Years Eve, the City Council held a special meeting to walk the property in preparation with tonight's meeting where the council will provide direction to staff, so they can proceed with grant applications and begin discussions with potential partners. It is anticipated the park project will cost more than $50 million (grants & partnerships) and will be completed in multiple phases.
This project has been in the works since 2002 when the Dutch Slough Memorandum of Understanding occurred with the idea of a 55-acre community park—this includes the 27-acre Burroughs Property and the 8-acre parcel to the north end of Jersey Island Road.
According to the agenda, two concepts for the park were developed over the years with the first being in 2006 and the second being in the Spring of 2016.
According to the 2016 conceptual plan, some of the planned park amenities includes:
Agricultural event facility & storage
Agricultural fields
Baseball field & bleachers (little league)
Boat house & launch dock
Boat and trailer parking
Concession stand & restrooms
Farm Animal Paddock
Observation Deck
Outdoor learning & classroom building
Pavilion
Picnic areas
Play Area
Shaded Structures
Trails
Back on October 21, restoration of the wetlands at Dutch Slough broke ground which will transform 1,187 acres around the proposed park.
Agendas