On Wednesday, the Diablo Water District is seeking input on potential district maps as they move from an at-large director election to a division director election which would impact the City of Oakley and community of Bethel Island and a small portion of the Town of Knightsen.
According to their agenda, they have provided 6-potential district maps, which in every scenario places the "white vote" well ahead of every other minority. Sadly, this is important under the  Federal Voting Rights Act which was the reason many cities and school districts were required to move forward to District elections—Delta Diablo appears to be going backwards on that trend to ensure the "white vote" stays the majority.
Of the 6 potential maps (30 districts created), every District has a population where the "white vote" is majority—the whole point of moving to Districts, was to create more balance with the minority populations and keep like-minded communities together under the Federal Voting Rights Act.
Aside from MAP 6, for whatever reason, most maps and districts are splitting up like-minded communities and ignoring man-made and natural geographic features.
Which under the Federal Voting Rights Act, the District should be created following the criteria which includes:
Each area shall contain nearly equal number of inhabitants
Drawn to comply with Federal Voting Rights Act
Compact and contiguous, as much as possible
Respect communities of interest, as much as possible
Follow man-made and natural geographic features, as much as possible
Respect incumbency, If possible
Other local considerations (IE, school boundaries, locations of school sites)
Editorial Comments on the Maps:
It would appear there is some gerrymandering going on because why else would they include maps and specifically point out where each director lives. They are ensuring each District has a current director living in it–minus the District where a director recently resigned.
In fairness to the District, based on the Oakley population numbers, it is near impossible to ensure a minority group could earn a seat because Oakley's minority groups are spread throughout the entire city.
Which is why for starters, going to Districts prior to the 2022 Census Data is a waste of time and money. Every city, school district or special district is going to have to redraw their maps anyway.
Personally, the idea of going to Districts in any City, School District or Special District under 100,000 voters is pointless–the Diablo Water District is at just 35,000 population.
In Oakley, for example, this is problematic because of all the construction out on E Cypress towards Summer Lake, you automatically will see shifting of Districts.  Remember, they are building these maps off 10-year-old data at a time when Oakley had 35,432 residents. Today, it is estimated the City has around 43,000 people.
It would be prudent and tax-payer friendly to hold off on creating Districts until after the 2022 Census Data allows them to create more accurate maps for better representations of the voting public.
In observing these maps, you appear to have directors who are moving to Districts in an effort to protect their own seats for the next 4-years prior to new census data being released which would show many of these directors would run against one another.
Here are some quick thoughts on each map.
Map 1:
Voting Area 1, 2 and 3 all hover around the 50% white Population
Vintage Parkway is meshed in with another part of Oakley that is not like-minded.
This map splits up the community along Oakley Road and Live Oak for no apparent reason but wraps around to preserve Kenneth Crockett's seat.
Map 2:
Many of the same problems as map 1 – except it now splits up Vintage Parkway and Walnut Meadows.
This map divides up Eagle City into two.
Every voting area preserves the "white vote" with 4 of 5 districts above 46%
This map appears to work around trying to preserve the seats of Kenneth Crockett and Edward Garcia.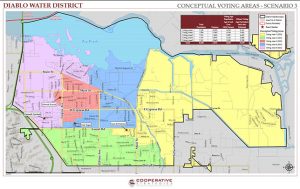 Map 3
This map should be a non-starter.
Splitting up Vintage Parkway Neighborhood is a big problem in terms of like-minded community.
This map has a little sliver in voting area 1 that preserves the seat of Jack De Fremery.
Map 4
This map may be viable and worthy of discussion, but it is still Preserving Jack De Fremery seat in the south part of the District.
Map 5
This map is a non-starter and by far the worst map of all.
Bridgehead to Bethel Island to Summer Lakes is not acceptable.
They then split up like minded voting blocks by splitting communities along Empire Avenue and W Cypress.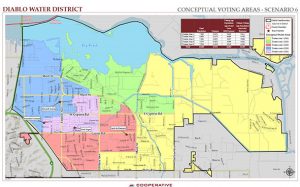 Map 6
This might be the most viable map of all going into the 2020 election. It is not perfect, but keeps like minded communities together with the exception of Bethel Island all the way down to Neroly Road in District 1 (yellow).
Meeting Info:
The Diablo Water District will meet on July 24 at 7:30 pm at the District Office located at 87 Carol Lane in Oakley CA.
The District is asking for input by either showing up to a meeting to speak publicly, or you can mail them comments by writing:
Diablo Water District
Attn: General Manager
PO BOX 127
Oakley CA 94561
For those with comments, there is also no contact information for the board members on the website so we would encourage you to email the general manager directly at [email protected]
To see the agenda and full drawings of the maps, click here.