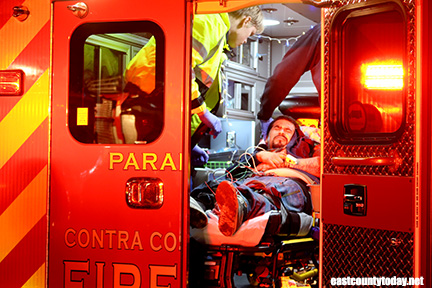 Just before 6:00 pm Friday, Oakley police were responding to a report of a petty theft at Auto Zone on Empire Avenue near Main Street when they received a report of a vehicle crash.
The crash occurred at the intersection Oakley Road and Neroly where it was reported of a head-on vehicle crash where the vehicle struck a tow truck and ended up in a vehicle with the driver injured. Two other people in the vehicle fled the scene.
According to Sgt. Robert Roberts of the Oakley Police Department, the vehicle was traveling on Oakley Road at a high-rate of speed with no headlights on when the crash occurred and said they were not in pursuit of the vehicle at the time of the crash. He confirmed the suspects involved were related to the petty theft. It was estimated the item stolen was around $30.
The driver was transported to a local hospital while one of two suspects returned to the scene and was taken into custody while sustaining a shoulder injury. A female was still outstanding and believed to have had a broken nose.
A search the vehicle resulted in police locating a knife and a replica firearm.
No other information was available.