At 8:49 pm Saturday, Oakley Police and East Contra Costa Fire Protection District firefighters were dispatched to a report of a vehicle rollover crash in the 80 block of Big Break Marina in the City of Oakley.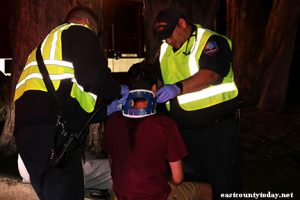 Upon arrival, units located a vehicle that had hit a cement barrier and had flipped over with four juveniles inside the vehicle. In total, three patients sustained minor injuries and a fourth patient sustained moderate injuries. A medical helicopter was requested, however later cancelled.  Two patients were transported by AMR and a third by private transport.
According to preliminary information, the vehicle was traveling at a high-rate of speed between 50-mph to 60-mph when it hit the barrier.
No further information was released.