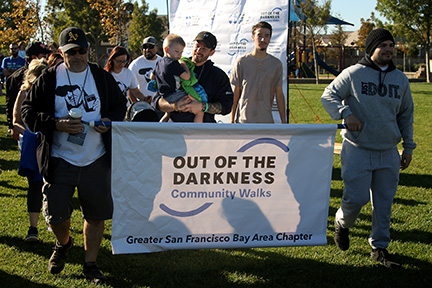 On Saturday, October 12, 2019 at Cypress Grove Park in Oakley, hundreds of Bay Area residents will participate in the American Foundation for Suicide Prevention's Out of the Darkness Community Walk.
Registration begins at 8:00 am, and the walk begins at 9:00 am. The walk lasts until 12:00 pm.
2019 marks the 5th year of the Oakley walk, which is one of five walks taking place in the San Francisco Bay Area this Fall. Community walks also take place in San Jose, Santa Rosa, San Francisco and Oakland. Each walk provides support and healing for survivors of suicide loss and those with lived experience around suicide and mental illness.
Funds raised by walk participants support the Greater San Francisco Bay Area Chapter's suicide prevention and outreach initiatives. In 2018, SF Bay Area community walks raised over half a million dollars in total and drew over 4,000 people from across the region.
AFSP's San Francisco Bay Area walks provide critical funding for local chapter activities, as well as funding for AFSP's national programs.
In addition to providing Mental Health First Aid and Youth Mental Health First Aid training events, the chapter presented Talk Saves Lives to nearly 30 groups and businesses across the Bay Area. Within the past two years, the chapter has hosted national conferences that address suicide prevention and outreach for at risk communities, including veterans and members of the LGBTQ+ community. The chapter's activities also include advocacy at the state and federal levels.
The American Foundation for Suicide Prevention is the largest private organization funding research into the causes and prevention of suicide in the United States. As the leading organization in the fight against suicide, AFSP recently unveiled Project 2025, a program that aims to reduce the annual suicide rate by 20% by the year 2025. The Greater San Francisco Bay Area Chapter of AFSP works towards this goal in the Bay Area through its programming and events that promote suicide prevention, provide outreach to at-risk populations, and support survivors of suicide and suicide loss
For more information, please contact Ryan Ayers, Area Director of the Greater San Francisco Bay Area Chapter of AFSP, at 707.968.7563 or [email protected], or visit http://www.afsp.org/walksfbayarea.
Find us on Facebook at http://www.facebook.com/AFSPSanFrancisco.