This week, the Oakley Union Elementary School District held a ground breaking for what will be the newest school within the District.
The new School at Summer Lake will be located at the Eastern End of the Summer Lake Development at the corner of East Summer Lake Drive and Watchtide Way.
According to Superintendent Greg Hetrick,  construction for the new school could start by months end with the clearing of the property and staging for start of construction.  Once that is complete they will begin the process of installing vibratory stone columns.
He also added that the school is not yet named and there is no target date for completion.
When opened, the school will serve students from Transitional kindergarten through 5th grade while serving up to 650 students.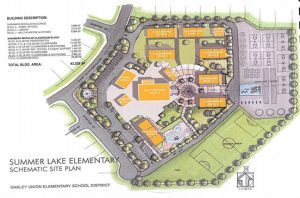 "As we move forward we will be working on school boundary lines for this new school as well as the other schools in the District," explained Hetrick. "Obviously the students that live in Summer Lake and Bethel Island will attend there."
He noted in terms of design, the school will have a similar design as Almond Grove Elementary School with some tweaks.
The project was made possible through the passage of Bond Measure "W" and have sold $26 million of the $31 million worth of bonds– The measure passed with 64.76% support.
They are now in the process of starting the projects at the 8 existing sites in addition to the construction of the new school.  For more information on Measure W, visit the District Website.