On Thursday, the Oakley Police Department prepared for the worst and hope they never have to use it as they held active shooter training drills at O'Hara Park Middle School in the City of Oakley.
Police Chief Eric Christensen said the official title of training was Emergency Response Training focuses on the idea of preparing officers for every type of disaster one could think of for emergencies including active shooter in a school.
He was quick to point out that officers had not had this type of training in a while, so it was good they were getting something a little different and new.
"You never know when an event is going to happen but this type of training helps us in so many different ways," explained Christensen. "It helps us with how to clear buildings, move traffic accidents, just basic police tactics. In this situation, this is the worst situation you can imagine but if we train for the worst, its going to work out for the best for us."
Christensen said the officers participating understood how timely and important this type of training, but what was vital was having school staff come out and also support the training.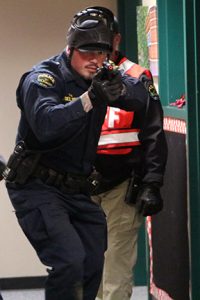 "They go through the class with the officers so they see what is important to people as well," explained Christensen. "People understand that this is a very important role we ask people to take when participating in this training. The instructors came back from a school at a national conference for Active Shooter (Texas) where they talk to people who are survivors of active shooters and those who have managed these kinds of events. They get to learn the lessons of what went right and what went wrong in these incidents."
Christensen added that this was an investment in protecting the community while familiarizing officers with the schools and staff. The days not only talked about what to do in an active shooter, but a bombing on campus, an intruder on campus to even fire alarms.
The training included several principals and teachers in an effort to increase preparedness for all involved. The police department plans to hold trainings at multiple schools in an effort to familiaize officers with layouts and scenarios involving each school.
Christensen was quick to point out they hope they never have to use that training in a worst case scenario. The police department says it will hold more trainings in the future and include drills with both the fire department and AMR.