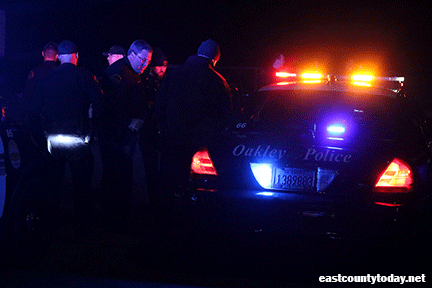 On Feb 24, 2018 Oakley Police officers responded to a report of a vehicle vs. pedestrian call on W 5th Street near E Home St. at 11:26 pm.
The call was then changed to a report of a patient suffering from a panic attack with both the East Contra Costa Fire Protection District and AMR being requested to stage.
While on scene, officers were charged at by multiple individuals. Officers were assaulted and spit on while being antagonized. At least two individuals were handcuffed with one subject needing medical attention after he was reportedly bleeding from the head.
Due to the high level of activity on the scene, one subject was transported to the police station where AMR was requested to provide medical attention.
No details were released on scene about the incident.
Update:
Per Oakley Police, they responded to a report of a house party where once they got on scene, several subjects attempted to fight with officers.