On Tuesday October 7, Mike Parisi was seriously injured in a motorcycle accident when a mini-van pulled out in front of him on E. Cypress Road and Knightsen Avenue in Oakley.
As a result of the crash, he was airlifted to John Muir Trauma Center in Walnut Creek with major injuries. He now faces months of recovery time and many surgeries. He is still in critical condition and is on a ventilator.
His family and friends are now organizing fundraisers to assist the family through this difficult time while Mike and his wife are expecting a new baby in December.
According to a family friend he is doing well but will need complete reconstructive surgery on his face. He also has a broken collar bone and other injuries.
Here is a flyer to the upcoming fundraiser on October 26, 2014 in Pittsburg.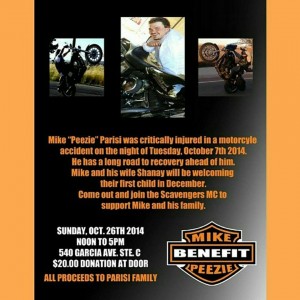 The event will also feature a raffle ($100 a ticket) where the winner will win a 2009 Road Glide.
If you cannot attend the event, there is also a GoFundMe page set up.  They are hoping to raise $5k to help the family.  Below is the text from the page.

Mike (peezie) Parisi was involved in a tragic Motorcycle Accident on Oct 7 2014, he has a long road to recovery ahead of him any support will be greatly appreciated during this unfortunate times as Mike and his wife Shanay are expecting there first child in December. Mike is in critical condition and has many Months and surgeries ahead of him. Mikes family and friends greatly appreciate all the support and love that has been shown. Thanks for taking the time to read this. God bless
To make a donation, visit the GoFundMe page