WASHINGTON, DC – Congressman Doug LaMalfa (R-CA) and Congressman John Garamendi (D-CA) introduced the
Sites Reservoir Project Act
(
H.R.1453
) to provide federal support for the construction of Sites Reservoir and related water infrastructure in Colusa and Glenn Counties.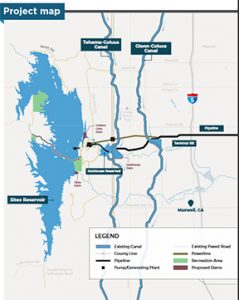 LaMalfa said: "
Water storage projects, such as Sites Reservoir, are absolutely critical to securing the future of our state's water supply. It's important that we have the infrastructure to save more water during wet years so we can prepare for the dry ones California sees all too often. Sites is the most effective project in the state, providing more storage per dollar invested than any other proposed project. I'm proud of this bipartisan effort and will continue to fight to ensure this much-needed project moves forward."
"Construction of Sites Reservoir would bring California closer to achieving a drought-resilient water system. Our state needs to make forward-looking investments to meet its future water supply needs, and Sites will benefit farmers, precious ecosystems, and our communities." said Congressman Garamendi (D-CA). "I am proud to sponsor the bipartisan Sites Reservoir Project Act, building upon the nearly $1.2 billion in public funding for the project secured to date."
"Congressmen Garamendi and LaMalfa have been tireless champions of Sites Reservoir and today's introduction of the Sites Reservoir Project Act brings us one step closer to realizing our shared goal of building the reservoir. Sites would provide critically needed water supply reliability for the environment, farms and cities and its importance for the future of California cannot be understated," said Sites Joint Powers Authority Chairman Fritz Durst.
The
Sites Reservoir Project Act
(
H.R.1453
) would direct the Bureau of Reclamation to complete a necessary feasibility study for the project and, if deemed feasible, authorize additional funding and technical support.
Sites Reservoir would provide 1.8 million acre-feet of off-stream water storage capacity for California and help local communities prepare for droughts. The reservoir would be owned and operated by the
Sites Joint Powers Authority
, a regional consortium of local water agencies and counties formed in 2010. To date, more than $1.2 billion in public funding has been committed to the Sites Reservoir Project, including
$816 million from the State Water Bond
(2014 Proposition 1), $449 million low-interest financing from the U.S. Department of Agriculture
announced in November 2018
, and federal funding from the Bureau of Reclamation for the feasibility study and related work.
The text of H.R. 1453 is available
here
.
A map of the Sites Reservoir Project is available
here
.