With the filing period now open for candidates who seek local office this November, some races have began to get crowded in East Contra Costa County.
The filing period began July 16 and will run through August 10. If an incumbent does not file to run, that particular race is open another week until August 15. For more information on key dates, visit Contra Costa County Elections.
As of Friday, the most crowded race to date is the Antioch City Council, with two seats open for a two-year period, six candidates have already pulled papers. Sitting councilmembers Lori Ogorchock and Tony Tiscareno are both seeking re-election, while Joy Motts, Nora Foster, Janice Lipnisky and Caroleve Prudence Capelle have pulled papers.
Whoever wins these seats will be up in two-years thanks to districting that will put all five council seats up for election in 2020. Meaning, whoever wins will basically be in campaign mode after serving for just a year.
With a steep learning curve and a short-term, combined with major issues coming to the council, Antioch residents will want to get educated on all the candidates rather quickly because in 2020, they are voting for all five members of the council.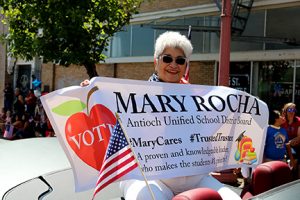 The Antioch Unified School District appears it will have two new board members as Walter Ruehlig and Debra Vinson have opted to pull papers for the Contra Costa County Board of Education – District 5. While either candidate could technically still pull and file for AUSD, there is no indication of that happening.
Candidates who have pulled papers for AUSD include Mary Rocha who previously served on the school board as well as both Mayor and City Councilwoman. Rocha has the name recognition and its likely her race to lose. Candida Gonzalez-Amigo, who is an active parent with the PTA at Deer Valley High School has also pulled papers. Meanwhile, in an effort to split the work load, it appears both Elizabeth Householder and Shagoofa Khan will be running as a slate given there many photos and videos together. While Householder knows her stuff and is solid on LCAP knowledge, she might be better off running her own campaign given slates are a terrible idea.
Joining Ruehlig and Vinson in the Board of Education District 5 race is Annette Lewis who are looking to unseat Jeff Belle who has yet to file.
In Brentwood, Joel Bryant has announced he will be seeking re-election while John Fink has already pulled papers. Balwinder "Bailey" Grewal, who was appointed to replace Steve Barr, has stated he will not be seeking election. There are rumblings of possibly two other candidates who will run, but there is no indication at this time those rumors are valid. The reality in Brentwood is that baring any last minute surprises, anyone without name recognition would be hard pressed to beat out Bryant or Fink.
In the City of Oakley, both Randy Pope and Sue Higgins are up for election. While Higgins has pulled papers and has every intention of running, sources say Pope is lukewarm on the idea of seeking a third term and is waiting to see what the field presents before making his decision–my bet is Pope runs because the field just won't be that good to produce a suitable replacement. Michael Dupray is the only other candidate to pull papers.
In the City of Pittsburg, incumbent Pete Longmire has announced previously that he will not run, so their nomination period will stay open until August 15. So far, Merl Craft is seeking re-election while Wolfgang Croskey has pulled papers. Still no word on if Sal Evola will seek re-election and according to my sources, I am getting conflicting reports on whether or not he will run. Evola probably enjoys the mystery surrounding his intentions.
In the Town of Discovery Bay, Kevin Graves, Robert Leete and Chris Steele are all up for election. So far, only Leete has pulled papers for re-election. Graves has indicated his desire to continue to serve but has yet to pull papers. No indication from Steele at this time on his future plans. Meanwhile, Bryon Gutow has also pulled papers.
For the first time, the East Contra Costa Fire Protection District will be an elected board with five seats available. Currently, the Board has 9-appointed members so one would assume there could be 9-candidates as the board shrinks to five-members. So far, only four candidates have pulled papers which include sitting appointed directors: Susan Morgan, Brian Oftedal, Stephen Smith and Joseph Young.
On a side note, while Susan Morgan has pulled papers for the fire District, she has also pulled papers and filed for Ironhouse Sanitary District (serving both Oakley & Bethel Island). According to county elections, this is legal and she is allowed to file for both seats because there is not a conflict of interest–she also could win and be seated in both districts.
I will be putting out more information on this over the weekend, but to challenge this, county elections stated one would have to prove the case of conflict of interest with the Secretary of State and then have to take the case to the Contra Costa County Courts. The old saying goes just because you can, doesn't mean one should. Meanwhile, at Ironhouse Sanitary District, Chris Lauritzen is also seeking re-election and has pulled papers.
Other notable races at this time is Joel Keller (BART), Beverly Lane (East Bay Regional Park District – Ward 6) and Colin Coffey (East Bay Regional Park District – Ward 7) all have pulled papers and currently do not have any potential challengers.
For a full list of candidates, click here. That page will be updated daily.
I wish all the candidates the best of luck regardless of your position, political affiliation or history. Running campaigns are not easy and there will be lots of noise (especially from me), but they should be congratulated for at least stepping up when others do not. I encourage the candidates to be themselves and limit pandering for voters. I also community to stick to the issues and leave the personal attacks out of discussion–I know that will not happen given the national political climate, but hey, I can ask.
Remember, there is nothing easy about being an elected official or they job they have done in a previous term. They make a decision or voice an opinion and a 1,000 people shout back that they can do it better or should be done another way. So my hats off to all of you.
For those running, good luck and I am glad it is you and not me!
Mike Burkholder
Publisher of EastCountyToday
Candidates may contact me at [email protected] with any press releases or information regarding their campaign. I will be adding websites/Facebook pages to our campaign list on our candidates page.