On April 13, 2019, Volunteer Firefighters were honored by the East Contra Costa Fire Protection District in the Town of Knightsen (Contra Costa County).
During the ceremony, Chief Brian Helmick explains why they were honoring those before them and setting the stage going forward to honor all firefighters in the future.
The ceremony honored all past volunteer/POC firefighters from Bethel Island, Brentwood, Byron/Discovery Bay, Eastern, East Diablo and Oakley/Knightsen Fire Districts.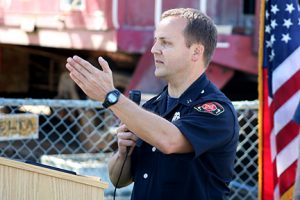 The ceremony came from the work of Captain Robert Ruddick who says while working on a school project 2-years ago where his project was to gather history and photographs. He wanted to show everyone in the community they had greater history than 2002.
During his speech, Ruddick says he interviewed more than 40-people and during those conversation, he gather 896-names from all the previous fire districts and believed he is only scratching the service.
Although the ECCFPD was formed in 2002, the district has history dating back into the 1800's as other local fire districts have been merged, consolidated over the years which include:
Brentwood Fire Protection District: [1928-1984]
Byron Fire Protection District: [1929-1991]
Eastern Fire Protection District: [1946-1984]
East Diablo Fire Protection District: [1985-2002]
Bethel Island Fire Protection District: [1947-2002]
Oakley Fire Protection District: [1924-2002]
Fire Chief Brian Helmick called this the first of many ceremonies going forward each year.
"I have a goal to start all of our academies with an understanding of the Districts history. As our district continues to grow, we will also continue to build our history into our culture," said Helmick. "Today, we are here to honor you. We are the generation that is currently answering the call, but it is important to know we are carrying your flag. What is important to know about this is that there is going to be a time which our time will be done and we will become the retired or past firefighters within these communities.  I want you to know we carry our flag with a lot of pride and we are very proud to carry it. But when that day comes and the next generation takes ownership and responsibility for what it is we are doing today and we pass that flag to them, they will know very clearly that there are many honorable men and women that dedicated for not only decades to be able to provide a very high level of service and it will be only then that they will be able to take ownership and responsibility to know what they are carrying needs to be represented well. So I thank all of you for setting the tone. I feel honored and privileged to continue to honor and recognize and represent what it is you started."
For more on the ECCFPD: https://www.eccfpd.org/eccfpd-history