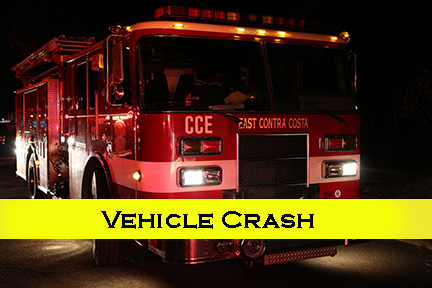 At 9:42 pm Monday, East Contra Costa Fire Protection District firefighters responded to a report of a traffic crash in front of the cemetery on Byron Highway near SR 4 in the Brentwood.
Upon arrival by AMR, they requested an additional AMR units to the scene along with an medical helicopter.
By 9:54 pm, ECCFPD reported they had the eastbound lane of traffic closed while crews were on scene. There were at least two patients with injuries.
By 9:57 pm, a 3rd AMR unit was requested with three injured and at least 1 serious.
By 10:05 pm, a 2nd medical helicopter was requested. That helicopter was later cancelled.
Detail Information
10:29 PM
20
[66] 404C REQ 1185 ABV 1020 FOR WHI BMW (VIC VEH)
10:28 PM
19
[65] 1039 COCO SO WENT THRU THE AREA OF CEMENT FACTORY AND WENT UTL ON NY CFIRE OR SV / BC 19
10:27 PM
18
[64] LL COCO SO — THEY CALLED CHP'S WITN TIMOTHY AND HE ADVISD LINE 52 *** NEG SO 1097 OR ANY VISUAL
10:21 PM
17
[52] [Notification] [CHP]-PER COCO SO — INQ IF A37 STILL IN AREA? IF SO PLEASE COME UP ON THEIR EAST COUNTY CHANNEL — INFO ON POSS RESPONSIBLE VEH:: PAST THE CEMETARY, AROUND THE BEND BY THE CEMENT FACTORY, 1/4 MI FURTHER UP W/ MAJOR F-E DMG AND LOOKED LIKE IT WAS CATCHING FIRE — ASKING IF AIR CAN FLIR THE AREA FOR DRVR [Shared]
10:18 PM
16
[36] 404C LL 1097 W/ WHI BMW (VIC OF 20001) THIS IS SAME AS GG03195
10:16 PM
15
[48] [Appended, 22:18:40] [12] 404B NEG AIRBAG DEPLOYEMENT HERE – THERE IS 2ND VEH INVLD BUT NEG 1097 , OCCURD HERE , NEG RELATED TO GG03161
10:13 PM
14
[34] LL COCO FIRE // ITS UNK DOT SR4 JWO BYRON HWY NEAR MEMORIAL LN
10:12 PM
13
[47] [Appended, 22:18:40] [11] 404B 1097 W/ WHI BMW SD
10:00 PM
12
[46] [Appended, 22:18:40] [10] 1039 BRENTWOOD PD
9:57 PM
11
[44] [Appended, 22:18:40] [8] 19-404C COPIES – HAVE BRENTWOOD PD CAN RESPOND , EXTENDED FRM EB AT RAILROAD TO TC LOG GG03161
9:55 PM
10
[41] [Appended, 22:18:40] [5] WHI SD ON RHS
9:55 PM
9
[30] 19-404B COPIES ETA 1
9:55 PM
8
[28] [Notification] [CHP]-PER COCO FIRE – EB LNS CLOSED / MEDICAL HELO ENRT – 2 PATIENTS [Shared]
9:54 PM
7
[38] [Appended, 22:18:40] [2] ONE PRTY OO VEH HOLDING STOMACH
9:47 PM
6
[19] 1039 COCO SO
9:45 PM
5
[12] PER PASSERBYE 1 VEH STOPPED WITH VICTIM
9:45 PM
4
[16] [Appended, 21:46:27] [1] RESP VEH – WHI 4DR VEH
9:44 PM
3
[9] 1039 1141
9:44 PM
2
[7] SV CONT DRIVING ALOT OF CONSTRUCTION EQUIPMENT FALLING OO VEH
9:43 PM
1
[3] VV BLKING LANES