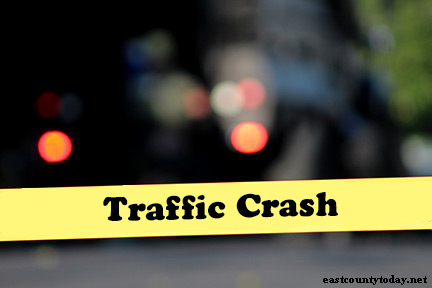 At 11:58 am Wednesday, a three vehicle crash on eastbound Highway 4 near Somersville Road blocked 2-lanes of traffic and left three people injured with moderate injuries.
At least one person was trapped in their vehicle and a nurse was on scene of the crash.
By 12:14 pm, a SIGALERT was issued.
Update:
All lanes have since been reopened.
Detail Information
1:29 PM
48
[117] ^***CANCEL SIGALERT*** ALL LANES OPEN AT 1329 HRS
1:29 PM
47
[116] 1039 DOTCC
1:29 PM
46
[115] 19-S1 19-S1 ALL LNS OPEN / RTD DOT
1:13 PM
45
[107] [Appended, 13:18:00] [13] 683 – THIS WAS THE 3RD PTY INVLD IN TC / CPTO WAS ROLLED TO HIM AND THEY HELPED ANOTHER PTY / HE DOESN'T WANT ANY POLICE CONTACT AND HE IS CALLING GEICO FOR A TOW
1:08 PM
44
[94] [Notification] [CHP]-Problem changed from 1179-Trfc Collision-1141 Enrt to 1181-Trfc Collision-Minor Inj [Shared]
1:08 PM
43
[93] 405M – 3 VEH 1181 / WILL ADVS 144 IN A BIT
1:08 PM
42
[92] S1 CPZ LN 89-90
1:07 PM
41
[101] [Appended, 13:18:00] [7] SAYING CHP IS NOT ASKING THE IMPORTANT INFO WHEN TRYING TO ASK WHAT COLOR AND TYPE OF VEH HE IS IN
1:06 PM
40
[97] [Appended, 13:18:00] [3] STATES IN TC
1:06 PM
39
[96] [Appended, 13:18:00] [2] RP IN WHI FORD TAUR VS UNK
1:03 PM
38
[91] DOT COPY LN 90
1:01 PM
37
[88] #1,2,3 LNS BLOCKED TILL CT GOES 97
1:00 PM
36
[87] REQ ETA OF CT TOO
1:00 PM
35
[86] VIA LL 19-S1 FROM 1 VEH // ACROSS #1,2,3 LNS
12:53 PM
34
[82] 19-1X VIA MDC: 2014 cadi srx4 suv sil dpm1460 2 plts 22651g cupertino tow
12:49 PM
33
[80] WILL NEED ABOSORBANT FOR OIL IN #1,2 LNS
12:47 PM
32
[79] [Rotation Request Comment] 1039 FERNANDES TOW TO 1022
12:45 PM
31
[76] 1039 COPY LN 73
12:43 PM
30
[75] 1022 FERNANDEZ TOW // PUT BOT
12:40 PM
29
[69] 1039 DOT-CC, LATE ENTRY 4 CMS SIGNS ON
12:25 PM
28
[66] 1039 LINE 65
12:24 PM
27
[65] 683 REF LN 63 *******************************************AFFIRM / PLS ADVS W/ CAUTION
12:23 PM
26
[63] [Notification] [CHP]-ARROWHEAD TOW LL STUCK IN TRAFFIC REQ PERM TO USE RHS TO ACCESS TC SCENE [Shared]
12:23 PM
25
[62] A19-683A 19-683 1022 1185 3A AND ROLL 3RD FB OR CPTO CAN TAKE IT AS A ROTATION
12:18 PM
24
[59] 405M REQ'D SIG ALERT / CPZ LN 53
12:16 PM
23
[56] [Rotation Request Comment] 1039 FERNANDES M TOW 925-454-4427 W/ 1 FB
12:14 PM
22
[54] 683 CPZ LN 53
12:14 PM
21
[53] ^***ISSUE SIGALERT*** #1,2,3 LANES BLOCKED DUE TO COLLISION, EB SR4 AT SOMERSVILLE RD, UNK ETO
12:13 PM
20
[50] [Rotation Request Comment] BR TOW NEG FB AVAIL / ROLLING NEXT
12:13 PM
19
[49] 1039 3A // CPTO TOW // C# 33750
12:13 PM
18
[48] 3A REQ'D FB JUST IN CASE FOR LN 46
12:12 PM
17
[47] 1X ALL LNS BLCK'D EXCEPT #4 LN
12:07 PM
16
[37] [Rotation Request Comment] 1039 Arrowhead Tow ANT 800.750.6539
12:07 PM
15
[35] ANT WILL CHK W/ SGT – THEY'RE ENRT TO 211 STRONGARM BUT WILL SEE AND IF THEY CAN RESPOND THEY WILL ADVS ON 1185 IF POSS
12:04 PM
14
[34] 1039 ANT PD
12:03 PM
13
[30] 1039 COCO SO
12:01 PM
12
[26] FIRE CPZ LN 16
11:59 AM
11
[19] [Appended, 12:00:27] [1] POSS 3 VEH UNK DESC BLKG #1#2 AND RHS
11:59 AM
10
[41] [Appended, 12:09:36] [2] VEH IS SMOKE
11:59 AM
9
[14] GRY CADI SRX VS BLU KIA OPTIMA
11:58 AM
8
[12] 1039 1141
11:58 AM
7
[7] VEH SMOKING
11:58 AM
6
[10] [Appended, 11:58:52] [3] MIDDLE LANE
11:58 AM
5
[9] [Appended, 11:58:52] [2] MINI VAN VS FORD FORD TAU VS HOND CIV VS UNK
11:58 AM
4
[5] [Appended, 11:58:44] [2] BLKING 2 LFT LNS
11:58 AM
3
[4] [Appended, 11:58:44] [1] WHI SED VS SIL SED VS UNK
11:58 AM
2
[2] BLKGING LNS 1 and 2
11:58 AM
1
[1] BLU SD VS SIL SUV