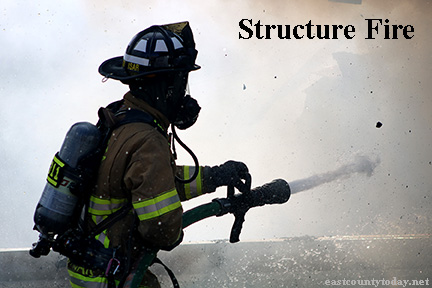 Just after 5:00 pm Sunday, Contra Costa County Fire Protection District responded to a report of an exterior fire between two homes on Old Rogers Ct Road in the City of Pleasant Hill.
While responding, it was reported that a column of black smoke was observed and called for a structure response.
By 5:10 pm, Contra Costa County fire arrived on scene to two homes on fire with a small explosion. They called for a second alarm response.
By 5:15 pm, it was reported that the fire was between two homes with two homes well involved. PG&E was requested as one gas meter was burnt off.
By 5:29 pm, it was reported that one of the homes had a fully involved attic on fire and for safety reasons, was pulling crews out of interior attack. That home was switching to a defensive fire attack due to too much involvement in the attic.
A short time later, it was reported that there was a partial roof collapse. They also went defensive on both homes.
By 6:00 pm, the fire went 3-alarm as the Battalion Chief requested resources for rehab and personnel swaps. Firefighters were still defensive on the homes which the fire was under control, but gas was still active.
Check back for updates.