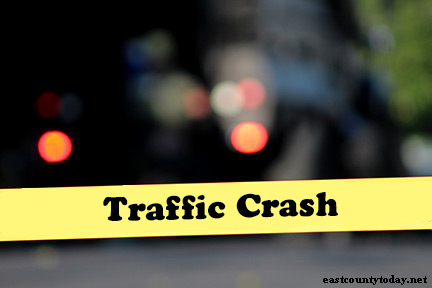 At 8:27 pm Sunday, Contra Costa County Fire responded to a report of a vehicle crash at Winter Way and Willow Pass Road in Bay Point.
The incident left one juvenile in critical condition and two others with major injuries. A medical helicopter was requested for the juvenile.  Firefighters requested 4-AMR units to the scene.
According to initial reports, this was potentially related to a Contra Costa County Sheriffs Office pursuit that began on in central county.
No other information was available.
UPDATE
On Sunday, October 6, 2019, at about 8:10 PM, a vehicle heading southbound on
Highway 680 near North Main Street passed a Deputy Sheriff at a high rate of speed. The Deputy attempted a traffic enforcement stop on the vehicle. The car did not yield leading Deputies on a pursuit.
The suspect vehicle went into Pleasant Hill, Concord, and Pittsburg before heading into
Bay Point. While fleeing eastbound on the 2100 block of Willow Pass Road, the suspect struck a vehicle pulling out of a business. The three occupants in the vehicle that was hit were injured and taken to the hospital for treatment.
The suspect was arrested. He is identified as 27-year-old Conrad Mariscal of Pittsburg.
He was booked into the Martinez Detention Facility on numerous charges including felony
evading, reckless driving, possession of a controlled substance and transporting a controlled
substance. Mariscal, who was also on parole, is being held without bail.
Anyone with any information on this case is asked to contact the Sheriff's Office Investigation Division at (925) 313-2600. For any tips, please email: [email protected] or call 866-846-3592 to leave an anonymous voice message.
Information released by Contra Costa County Sheriffs Office