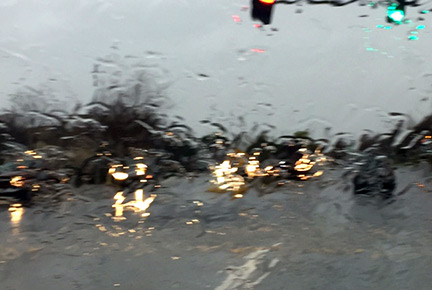 PG&E meteorologists are forecasting a major winter storm to impact much of PG&E's service area this week.
The event will include strong southerly winds, heavy rain, heavy mountain snow, thunderstorms and cold temperatures. This storm has the potential to produce customer outages.  This is NOT a Public Safety Power Shutoff event.
PG&E encourages customers to have a plan, prepare for power outages and above all else, stay safe. Here are some tips for customers:
Have flashlights, radios and fresh batteries ready and know where to go for updates on storm conditions and power outages.
If you have a telephone system that requires electricity to work, such as a cordless phone or answering machine, plan to have a standard telephone or cellular phone ready as a backup.
Freeze plastic containers filled with water to make blocks of ice that can be placed in your refrigerator/freezer during an outage to prevent foods from spoiling. Blue Ice from your picnic cooler also works well in the freezer.
Secure outdoor furniture, lightweight yard structures and decorative lawn items that can be blown by high winds to prevent them from damaging overhead power lines and property.
If you have a stand-by generator, make sure that it's installed safely and inform PG&E to avoid risking damage to your property and endangering PG&E workers. Information on the safe installation of generators can be found on our website at www.pge.com/generator.
Treat all low hanging and downed power lines as if they are energized and extremely dangerous. Keep yourself and others away from them. Be aware of trees, pools of water and other objects that may be in contact with power lines. If you see damaged power lines and electric equipment, call 911, and then notify PG&E at 1-800-743-5000.
If your power goes out, unplug or turn off all electric appliances to avoid overloading circuits and fire hazards when power is restored. Simply leave a single lamp on to alert you when power returns. Turn your appliances back on one at a time when conditions return to normal.
Street lights: At night, the streets will be much darker than usual and will look different. Follow all posted speed limits – or drive a bit slower. Use turn signals when changing lanes and especially at corners with crosswalks.
Traffic Signals: If traffic signals are out or flashing red, come to a full stop at every intersection, and proceed as you would at a four-way stop.
Customers can get updates on outages in their neighborhood through a variety of channels.