Below is a list of various events in East Contra Costa in the cities of Antioch, Brentwood, Concord, Oakley and Pittsburg.
---
8:30 am: Veterans Day in Antioch(multiple events)
Join the city of Antioch as they host a series of events on November 11 beginning at 8:30 am along with ceremonies and a parade. Here is a schedule of the events:
8:30 am – Pancake Breakfast at Antioch Marina
9:30 am – Ceremonies & Battle of the Local High School Bands at the Marina
10:45 am – Parade from Veterans Memorial down 2nd Street
12:00 pm – VFW Luncheon (free for veterans) – other guests $5.
---
10:30 am: Veterans Day in Brentwood
On Nov. 11, join veterans on Veterans Day at Veterans Park in the City of Brentwood (3841 Balfour Rd) to honor those who have served. The event begins at 10:30 am which includes speakers, music, vocals, military vehicles and food.
---
11:00 am: Veterans Day Observance Ceremony in Oakley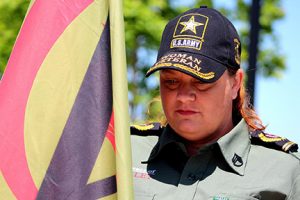 The City of Oakley will hold its 8th Annual Veterans' Day Observance Ceremony on Monday, November 11 at Civic Center Park (3231 Main St) beginning at 11:00 am. Oakley's program will include the presentation of colors, student essays, rifle salute and taps. This year's program will also include the Freedom High School Marching Band.
This years keynote speaker will be Marine Corps Corporal (Ret.) Ryan Berg. Berg was twice deployed to Iraq and has working in support of the Veterans community since 2007. Ryan is the co-founder of Returning Veterans of the Diablo Valley, an organization dedicated to enabling a thriving military veteran community in the East Bay Region of Northern California that reflects human values of belonging, friendship, social healing, and psychological wholeness. Returning Veterans of Diablo Valley also has a speaker's bureau to office the public a source of authentic information about America's modern military veterans. The veterans provide "living history" lessons, and speakers include members of all branches of military service. Berg is currently an English Teachers Assistant and Disability Student Service Representative at Diablo Valley College. He also serves as co-executive producer of Contra Costa County's television program, Veterans' Voices.
He holds a Bachelors Degree in Rhetorical Theory from UC Berkeley and a Masters in Leadership Studies from Saint Mary's College of California. In June 2020, he will be attending Saint Mary's Doctorate in Educational Leadership Program.
Veterans Day is a Federal Holiday honoring all armed service veterans. This day will also commemorate the 101st Anniversary of the 1918 signing of the Armistice, which ended World War I between Germany and the Allied Nations.
---
11:00 am: Concord Veterans Day Ceremony & 7th Annual Softball Tournament
This Veterans Day, Monday, November 11, the County Veterans Services Office, in partnership with the City of Concord, will be hosting its 7th Annual Veterans Day Invitational Softball Tournament at Willow Pass Park (2748 E. Olivera Road at Salvio Street).
This free tournament brings together veterans and active duty military to provide a unique way to honor their military service and help participants connect with fellow veterans and the community. Participating teams include veterans and active duty men and women representing every branch of the military.
The County Veterans Services Office coordinates their event with the Concord Veterans Day Ceremony, organized by VFW Post 1525 in partnership with the City's Parks & Recreation and Public Works departments. This allows them to bring together veterans of all generations and creates one of the larger Veterans Day ceremonies in the East Bay region.
The Veterans Day Ceremony, also in Willow Pass Park, will begin at 11:00 a.m. and, immediately following, the tournament will begin with a ceremonial first pitch thrown out by Concord City Councilman Dominic Aliano. All are welcome to attend.
For more information, please visit www.teamsideline.com/concord. Interested teams may contact Nathan Johnson for information about registration: [email protected] or (925) 313-1481.
For more information about tournament sponsorship opportunities please contact Ryan Rector at (925) 813-5188 or r[email protected] and Noga Welner-Kessler [email protected] for volunteer inquiries.
---
11:00 am: Pittsburg Veterans Day
The United Veterans Council of Pittsburg invites the community to the annual Veterans Day Ceremony on Nov. 11 at 11:00 am at the Senior Center at 300 Presidio Lane in Pittsburg, CA. For more information, contact Wilfred Scott (925) 318-4186 or [email protected]
---
12:30 pm: Veterans Day Parade & Commemoration Ceremony (Fairfield)
'Celebrating the American Legion's 100th Anniversary', the Fairfield Main Street Association along with the American Legion are busy planning the Veterans Day Commemoration Ceremony and Parade in Downtown Fairfield. The commemoration will take place on Monday, November 11, 2019. The theme for this year's event is; 'Celebrating the American Legion's100th Anniversary'.
The day will begin at 10:00am with patriotic concert and Ceremony of Remembrance. The ceremony will take place at the Downtown Theatre, located at 1035 Texas Street. The Veterans Day Parade will begin at 12:30pm. The parade entries will assemble at Webster and Kentucky Street. The parade route will travel through downtown along Texas Street. The reviewing stand and dignitary seating will be placed at Texas and Madison Streets.
The entry fee for the parade is $50 for community groups and $70 for business entries. The entry fee is waived for veterans and active military organizations. Entry forms are available at www.fairfieldmainstreet.com or by calling 707-422-0103. First place winners will receive $30 cash prize, second and third place receive ribbons. Nearly thirty categories will receive awards, with $100 cash prize and trophy for Best Use of Theme and $150 cash prize and trophy for Grand Sweepstakes. All entries will receive a certificate of participation.
---
1:00 pm: Veterans Day Salute at Hannah Nicole Vineyards
Bring a picnic and join us for a Veterans Day Salute. VFW Post 10789 will be here with information on benefits veterans are entitled to. Live music by fellow marine Jeff Ricketts. This is a FREE event. No reservations needed to spend your day with us.
---
6:00 pm: Congressman Jerry McNerney's East Contra Costa Holiday Reception
Please join Congressman Jerry McNerney and our dedicated coalition of supporters for his East Contra Costa Holiday Reception on Monday, November 11th, 4:00pm – 6:00pm. It is another wonderful opportunity to discuss the latest issues important to our community in Washington and enjoy each other's company in the early evening.
Jerry's reception will be held at the beautiful Lakeside Room at La Grande Estates in Oakley. This is a suggested donation event. No contribution will be required to attend our neighborhood events but please consider supporting with a sponsorship in order to build resources for our voter outreach program and support front-line members of the House of Representatives.
RSVP below or give us a call at (209) 910-5721. We are looking forward to spending the evening with you!
---
7:00 pm: Veterans' Day Concert in Brentwood
Join us Monday, November 11th at 7pm as we honor and celebrate our veterans!
Concert is free, donations gladly accepted. The concert is held at the Brentwood Veterans Hall in downtown Brentwood.
---
Tuesday, Nov. 12: 101st Annual Veterans Day Celebration
Martinez, CA – Contra Costa County's Board of Supervisors honors veterans and invites the community to the 101st Annual Veterans Day Celebration on Tuesday, November 12, 2019, at 11:00 am in Board Chambers at 651 Pine Street, Martinez, CA.
This free celebration event will feature a color guard ceremony, a special poetry reading, and keynote speaker Jeffrey Jewell, U.S. Air Force Veteran who recently retired as the Director of the Concord Vet Center. He has served veterans across Contra Costa County and throughout Northern California for nearly 20 years.
"On this Veterans Day, we express our profound gratitude for the service and sacrifice of our veterans," said Board Chair, Supervisor John Gioia. "We honor these heroes who protect the ideals of freedom and democracy."
"The Board of Supervisors thanks all veterans and their families, and recognize the work of veterans' services organizations, including the County's Veterans Service Office," Gioia said.
Following the Veterans Day Ceremony in Board Chambers, the public can continue the celebration at the Martinez Veterans Memorial Building at 930 Ward Street (corner of Court Street and Ward Street) in Martinez for lunch.
Shuttles for free transportation to and from the event at Board Chambers in Martinez will be available in east, west and south Contra Costa County. Please call (925) 313-1481 for shuttle times and details.
---
Sign Up for Our Newsletter
Note – please sign up for our newsletter, you will get this list on Thursday along with events for both Thursday & Friday – click here