At 9:08 am Saturday, the East Contra Costa Fire Protection District responded to a report of a vegetation fire in the Town of Knightsen.
The incident occurred in the 3000 block of Delta Road off Byron Highway where firefighters located a spot fire, however, due to high winds, it was sending embers across a dry field and starting small fires.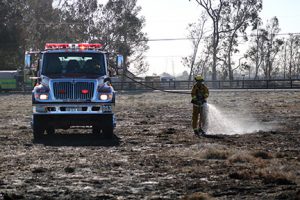 All three ECCFPD units were dispatched to the call and were committed as crews managed the spot fires, however, the incident was under control.
Across the Bay Area, a Red Flag Warning has been issued for this weekend. It is likely that gusty northerly winds will combine with very low humidity values to create critical fire conditions.
The cause of the fire was not provided.