On Wednesday, the East Contra Costa Fire Protection District held a swearing in and badge pinning ceremony for Fr. Robert Rien who became the official Fire Chaplain of the District.
Fire Chief Brian Helmick stated this was something they had been working on for the past year to provide higher level support to the members of the fire department and the jurisdiction because of mental and physical stress of what they do each day.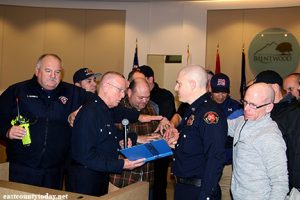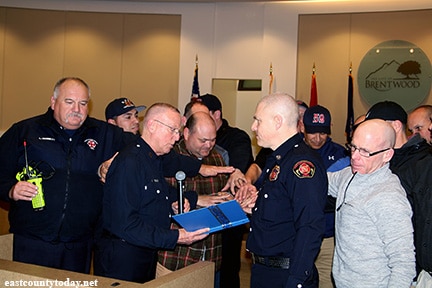 "We answer 8,000 plus calls per year in 250 square miles which is taxing on our members," stated Helmick. "In doing so we have set up a peer support and chaplaincy program that consists of clinicians. I do want to that Local 1230 assisting the district to be able to come along our members to provide good support and I do thank the board for allowing this opportunity to allow the fire districts very first fire chaplain."
Helmick called this a "milestone" for the District. The District then held a swearing in ceremony and a blessing of the badge.
Father Robert explained that in fire service, they have over 200-years of blessing apparatuses while calling one of the most important blessing of the badge for every new firefighter.
"The badge has a significant and symbolism that has been a part of fire service for a very long time. First of all, the badge indicates the department for which the Chaplain serves. It also represents rank and function whether it's a firefighter, engineer, lieutenant, captain, battalion chief, assistant chief, or chief, it distinguishes them," explained Rien. "Perhaps most important of all, the badge is in the shape of a shield and if you look at that, the ancient firefighters hailing from the Island of Malta, they were the ones who used their shield to not only protect themselves, but also the people whom they were fighting fires."
Rien then invited firefighters up to place their hands on the badge as he blessed it. He then took the oath.