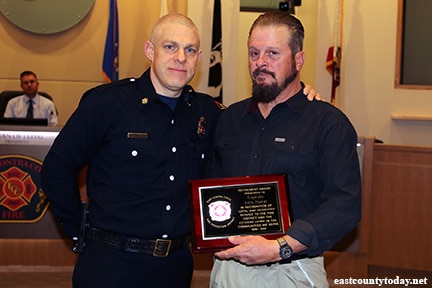 On Wednesday, the East Contra Costa Fire Protection District presented retired Fire Captain John Foster with a new retirement plaque along with replacement memorabilia.
Fire Chief Brian Helmick provided an over view of the destruction of the Camp Fire which was one of the deadliest fires within the Untied Stated (6th deadliest). The fire cost the life of 85-people, covered 153,000 square miles. 18,804 structures were destroyed.
"Captain John Foster and his family were one of the ones effected," stated Helmick who explained when he spoke to Foster he was just trying to fight his way out of the fire where he came across many members of his community and help escort them out. "The reason we are here tonight is to let Captain Foster and his family know that we are very saddened by the effects of what happened to you and one of the things I know, knowing Captain Foster, a lot of the mementos that you had collected throughout your career, it was hard for you to know that you lost. And that bothers us."
Helmick then reissued Captain Foster with a retirement plaque and behalf of all the members of the organization, they gathered many mementos that he may have collected over the years to re-collect them from other members.
"They are not what you had, they are not the originals, but they are close," said Helmick. "This will be for you to take to add back to your collection."
Helmick stated that his original retirement plaque was issued in 2015 and tonight they were re-issuing it back to Foster for his service from 1985 to 2015.
"Your services to not go unnoticed, although we can't correct the situation you had, we are here to walk along side of you and we hope that this is a small token to show that you are not alone," stated Helmick.
Foster was left speechless and caught off guard by the gesture and called it "amazing".