On Tuesday, Contra Costa County Fire Protection District Chief Jeff Carman provided a report to the Board on a plan to further reduce aid during emergencies to East Contra Costa Fire.
The move comes after East Contra Costa County Fire Protection District shuttered two Stations in May and CONFIRE has been supplementing the District with engines leaving Antioch and Pittsburg with reduced services.
Under a previous aid agreement, Contra Costa Fire sends the District two-engines automatically when needed, anything above and beyond must be approved. Under that agreement, data shows CONFIRE is sending 66.6% more resources than it receives with East Contra Costa who is sending just 33.6% or 1/3 the engines in return.
Under the new tentative agreement, CONFIRE would only provide assistance during priority emergency calls.
Chief Carman stated he had hoped the previous changes to the aid agreement would bring the aid closer to 50-50 split for the Districts but that has not happened which he called worrisome.
"The fact that they have reduced their stations to three its severely taxing our stations in Battalion 8," explained Carman. "We have directed Chief Gauge to further refine our automatic aid agreement to bring it closer to 50-50."
East Contra Costa Fire Chief Hugh Henderson spoke during public comments saying that the District is now at 3-stations as of May 11. In June, the District had 572 calls with Contra Costa Fire providing aid 50 times (6% of the Districts calls).
Henderson highlighted that in June, there was 19-times when no District resources were able to respond to a calls.
In 20-days in July, the District has already had 406 calls and needed auto aid a total of 30-times with 37-Contra Costa engines assisting.
7-structure fires
19 vegetation fires
17-auto accidents.
The district has requested mutual aid a total of 5-times with the furthest engine being requested from San Ramon.
Chief Henderson stated although the public made the decision not to increase service, he pleaded with CONFIRE to keep assisting the District.
"The District cannot respond without depending on your district providing auto aid for the safety of our firefighters and our citizens," said Henderson. "Chief Carman and I have worked to reduce the number of calls to only use as auto aid resources on priority emergencies. However, due to geographics, Contra Costa is the only resource close in time for response. As I know there is a great impact fire district, the importance to have some form of auto aid continue is high on the Districts priority list."
Chief Carman explained that Battalian 8, which covers Antioch, Bay Point and Pittsburg is one of the busiest Battalions in all of Contra Costa County because they sometimes head over the Hill to assist Central County, head to Marsh Creek Road and into East Contra Costa Fire.
In fact, Carman admitted the District is already saying "no" to East Contra Costa Fire.
"Many times they ask for resources and we cannot provide any. I know over the past 18-months we have talked about not being able to send them resources, something catastrophic is going to happen where we have to say no. Now that they have gone to three fire stations I can sit here and tell you honestly there has been a half-dozen or more times over the last 30-45 days we have told East Contra Costa no," explained Carman. "It's unfortunate from my perspective because it's dangerous. I wait every day to read the headlines that something critical has happened out there to civilians or firefighters, We are trying to help as best we can and are the only neighbor they have to rely on in a timely fashion."
He further noted the easy decision is to not send any resources because CONFIRE taxpayers are paying the taxes to fund their district, not East Contra Costa.
"If my bosses, the Board of Supervisors, said not to provide them any resources, that would be easy for me. Ethically and morally we can't do that," said Carman. "We don't want to see any tragedies with firefighters or civilians and we have to find that balancing act of how much aid we can provide without degrading our own level of service."
Carman further explained that it was just a matter of time when we are providing East Contra Costa Fire with aid and we have an emergency of our own and CONFIRE resources were out of the District.
Brentwood-Oakley Task Force Meetings
Chief Carman stated he has partaken in the Fire Task Force Meetings which he says have been proactive. Although he won't be providing details until August, he says it was clear this is a funding issue and there is no quick fix other than a temporary Band-Aid.
"You look at their budget, they are not spending improperly, they just don't have enough money to spend," said Carman.
Piepho: Grassroots Effort to Showcase Fire Shortfalls is Launching
Supervisor Piepho stated a community led effort is beginning to be coordinated to raise awareness about the District and that revenue is needed as well as a revenue enhancement.
"What is also needed is a confidence in governance, and that is not there now and that was the original intend of this board handing governance over to local control. They seized that local control and seized that authority and they used that momentum with that level of confidence from community members to go out for revenue immediately and that didn't happen," explained Piepho. "The District languished and they spent down their reserves and then we went into an economic recession. It's just exasperated the problem as we were 9 stations and now we are 3 stations. Your right, it's extremely dismal. I lost my neighborhood station a few years back. We feel it personally and we feel it professionally"
She noted the problem and solution has been identified but how they get there while building confidence in the community that those in charge know what they are doing, have trust in it, have faith in it and maybe with the right messaging they can get buy in on a revenue enhancement.
"Chief Henderson is the hardest working guy I know," said Piepho. "He works really hard to try and find solutions. He has been great and so have the firefighters. They are working every day to serve the community and the community does not always recognize that."
Chief Carman warned the public that the should be scared because its getting scary out there.
"What is scary is how many times they have responded to incidents without sufficient resources," highlighted Carman. "To the extreme, we had to watch a house burn down from the outside because there was not enough resources to do an offensive interior attack."
Supervisor Karen Mitchoff noted that the public does not understand this because incidents only impact those effected.
Supervisor Pipeho responded that part of the public not understanding is because firefighters continue to show up and do extraordinary efforts with limited resources that the public has not felt the risks.
Supervisors Discuss Problems with Prop 13 Funding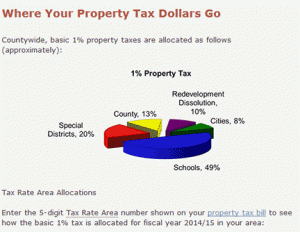 Supervisor John Gioia noted that the revenue issue is because ECCFPD is getting half the revenue in taxes as CONFIRE because of the effects of Proposition 13.
"That is a message that needs to get across to votes," explained Gioia. "That 8 cent differential is going to different agencies and redevelopment and cities. The cities in East Contra Costa County are getting a larger share of the 1% than they are in some other areas because less of it is going to fire."
Supervisor Gioia brought up the issue in Kensington where the Kensington Fire receives 30-cents on the dollar where East County gets 8-cents.
"It doesn't make a lot of sense because both are urbanized areas, but it's an artifact of what was left from Prop 13 when it was passed in 1978," explained Gioia. "Think about that from 8-cents to 30-cents in this county for fire depending on where you live. It's hard for voters to understand that is the cause because they say it must be something else because they get the same funding. That is not true."
Supervisor Piepho added it may be because everyone is paying the same 1%.
Supervisor Gioia agreed stating that no entity is going to give up a share of their tax revenue.
"Brentwood is not going to say here fire, let's give you a portion of our 1%," said Gioia noting it could only come from their General Fund.
Oakley Mayor Doug Hardcaslte who spoke in Public Comments says he is learning more about the fire service and the uniform level of service everyone wants and expects.
"Where do we go and who do we hammer to get some help?" asked Hardcastle. "Do we go to the State? There has to be somebody out there to get that money. I am looking forward to help."
Supervisor Gioia noted that all the Districts and Cities could get together and voluntarily re-allocate of the 1% and go to the State for approval with the plan. He noted that the process is complicated but it does mean some agencies give up what they are currently getting.
The Board approved the Chiefs Report 4-0.