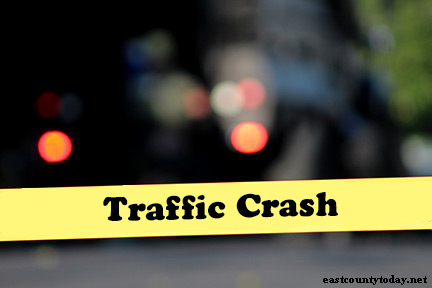 At 5:00 pm Monday, East Contra Costa Fire Protection District was dispatched to a report of a vehicle crash on westbound Highway 4 just east of Balfour in Brentwood.
While responding, it was reported as many as two people who were ejected with one person unconscious.
As of 5:05 pm, Engine 52 reported reported 2-critical patients with another person who was possibly deceased. Two medical helicopters were requested to the scene. Westbound traffic was shut down. Contra Costa County Fire was also on scene along with AMR and CHP.
As of 5:52 pm, a SIGALERT was issued and the roadway was expected to be shutdown for a significant amount of time.
CHP UPDATE: FATAL CRASH ON HWY-4 in BRENTWOOD
Late this afternoon, at about 4:56pm, Contra Costa CHP was advised of a head on collision involving two vehicles on HWY-4 eastbound, east of Balfour Road. Upon emergency personnel and CHP arrival, it was determined that a grey 2008 Nissan Ultima was driven across the solid double yellow lines, into oncoming traffic, and collided head on into a 2011 Hyundai Santa Fe that was traveling westbound on HWY-4.
The solo male driver of the Nissan (21yrs old from Antioch) was pronounced deceased at the scene.
The Contra Costa County Sheriff's Coroners Office will be handling the release of his identity. The adult male driver and adult female passenger of the Hyundai were both transported by helicopter to John Muir Hospital in Walnut Creek for major injuries.
HWY-4 in that location was temporarily one way traffic only until the investigation on scene was complete.
If anyone witnessed this collision or the events leading up to it, please contact Contra Costa CHP in Martinez, (925) 646-4980.
Check back for updates.
Detail Information
6:34 PM
33
[91] ^***UPDATE SIGALERT***CONTRA COSTA COUNTY, SR-4 JEO BALFOUR RD, ONE-WAY TRAFFIC CONTROL IN PLACE DUE TO COLLISION, REFER TO LOG 2030 FOR INFO***
6:28 PM
32
[90] 1039 DOTCC
6:28 PM
31
[89] 1039 DOT-CC
6:28 PM
30
[88] 19-S9 1 WAY / 1 WAY TRAFFIC CONTROL IN EFFECT
6:04 PM
29
[85] PER S9 TRYING TO SETT UP FOR 1 WAY TRAFFIC / REQ COCO SO TO HOLD FOR A FEW WILL ADVS
5:58 PM
28
[82] [Notification] [CHP]-Problem changed from 1183-Trfc Collision-Unkn Inj to 1144-Fatality by CHP [Shared]
5:54 PM
27
[81] [Rotation Request Comment] 1039 AandM Tow – 925.754.2500 — W/ 2ND TRK
5:53 PM
26
[80] [Rotation Request Comment] 1039 Jess Hernandez Tow – 925.432.3000
5:52 PM
25
[79] ^***ISSUE SIGALERT***CONTRA COSTA COUNTY, SR-4 JEO BALFOUR, ALL LANES BLOCKED IN BOTH DIRECTIONS DUE TO COLLISION. E-4 SHUTDOWN AND DIVERTED TO BALFOUR RD. W-4 SHUTDOWN AND DIVERTED TO MARSH CREEK ROAD.***REFER TO LOG 200907GG02030 FOR INFO
5:51 PM
24
[78] B19-404B START 1185 X2 , BOTH VEHS HAVE MAJ FE DMG
5:42 PM
23
[70] 1039 DOT-CC LINE 65
5:30 PM
22
[56] Secondary Location for A19-002X: BALFOUR ONR TO EB 4.
5:30 PM
21
[55] A19-002X A19-002X 1097 W/ BALFOUR ONR TO EB CLOSED
5:27 PM
20
[54] B19-683B HOLDING ALL TRFC ON 4 TILL ANOTHER UNIT CAN SHUT DOWN THE BALFOUR ONR / 2X FRM LT BTWD
5:26 PM
19
[53] 19-S9 1097 AT TC SCENE
5:22 PM
18
[52] 19-2X ENRT TO ASSIST W/ CLOSURE AT BLAFOUR
5:22 PM
17
[51] 19-683B HAS CLOSURE AT BALFOUR
5:21 PM
16
[48] B19-683B INQ IF ALL TRFC AT BALFOUR NEEDS TO BE DIV OFF AT BALFOUR / PER 404B AFFIRM , and WILL ALSO NEED BALFOUR ONR SHUT
5:17 PM
15
[44] BC LN 43 / S9 and 405B CPYS
5:15 PM
14
[41] 1039 BTWD PD , WILL CB W/ STATUS FOR REQ LN 35
5:13 PM
13
[39] 1039 COCO SO , WILL CB W/ ETA
5:10 PM
12
[34] GG-H30 10-8 ON MAR , 8 MIN OUT FRM TC
5:03 PM
11
[30] 19-S9 CPYS LN 29
5:02 PM
10
[27] 19-404B CPYS LN 26 , WILL ADV
5:01 PM
9
[25] B19-404B 1097
5:01 PM
8
[24] B19-405B 1097 ON RHS WB 4 JEO BALFOUR
4:59 PM
7
[23] BC LN 18 and 22 , 405B CPYS ALL
4:58 PM
6
[21] 1039 1141
4:57 PM
5
[19] 19-405B CPYS LN 14
4:57 PM
4
[14] CUPERTINO TOW DRVR ONVIEWED TC – TOW DISPATCH WILL ADV DRVR TO CALL FOR FURTHER
4:57 PM
3
[13] TRANS 1141
4:56 PM
2
[7] XRAY IN DITCH IS UNRESPONSIVE ON RHS
4:56 PM
1
[1] TOW 1097 W/ INVLD VEH