Here is a look at today's Events around East Contra Costa County in Brentwood, Oakley and Pittsburg. As things reopen, no doubt this list will get longer by the week.  To receive upcoming events, be sure to subscribe to our newsletter which comes out each Thursday.

8:00 am: Brentwood Farmers Market
Downtown Brentwood between 8:00 am to Noon.
---
8:00 am: City of Brentwood Makers Market to Downtown
BRENTWOOD, CA – The City of Brentwood is pleased to announce that Creative Communal, a pop-up artisan makers market, will be expanding their unique market offerings to Downtown Brentwood and the Brentwood community.
The event is from 8:00 am to Noon and will be held on Oak Street between 2nd and 4th Street.
The event will feature and showcase local Brentwood area artisan makers, with family fun and live entertainment, when permitted by local health order. Admission is free. More information about Creative Communal can be found at: https://www.creativecommunal.com/
The first Creative Communal Makers Market is scheduled on Saturday, April 24, 2021 from 8:00am to 12:00pm to be held in Downtown Brentwood on Oak Street between 2nd and 4th Street, adjacent to City Park and across from the Downtown Brentwood Farmer's Market. Additional events may be scheduled depending on vendor participation and community response.
---
8:00 am: Mt. Diablo Resource Recovery Set for Earth Day Cleanup Event in Pittsburg
Mt. Diablo Resource Recovery and the Pittsburg Chamber of Commerce are looking for volunteers for a Earth Day cleanup on Saturday, April 24 from 8:00 am to noon. All ages are welcome and 17 and under are required to have an adult with them as the cleanup will be held along Century Plaza Blvd. in the City of Pittsburg.
Register: https://www.mypittsburgchamber.org/earth-day-clean-up-2021.html
Enter to Win Prizes
Mt. Diablo Resource Recovery is giving away three $75 grocery gift cards and some cool MDRR reusable swag. To enter our Earth Day Challenge and a chance to win, remember to tag us using #BeResourcefulOnEarthDay2021 on social media on or before 4/22/2021.
---
9:00 am: Oakley Rotary Announces Earth Day Cleanup Event
The Oakley Rotary Club has announced that in celebration of Earth Day, the club invites the community to join them for a trash collection project on April 24, 2021.
Please join members of the Rotary Club of Oakley in cleaning the Main Street roadside from Big Break Rd. to Bridgehead Rd. in Oakley.
The Rotary Club of Oakley is pleased to invite you and your family to join them for a 2-hour trash collection project on either side of Main St. between Big Break Rd. and Bridgehead Rd. in Oakley. We will meet in the Cypress Shopping Center next to Taco Bell Restaurant at 9:00AM on Saturday, April 24th. Each person will be issued a plastic garbage bag (or 2 or 3) provided by the City of Oakley. A limited number of "trash pickers" will be available.
All participants will be required to sign a waiver. Those under 18 years must be accompanied by parent or guardian. COVID-19-related Health and Safety Guidelines will be in place for all who attend. Please remember to wear a mask, maintain social distancing and remain at home if feeling poorly.
Visit our website to learn more about the Rotary Club of Oakley by going to www.oakleyrotary.com. Or, follow them on Facebook at https://www.facebook.com/rotaryclubofoakley
---
9:00 am Brentwood Library Book Sale
The popular Friends of the Brentwood Library used book sale will return Saturday, April 24 with a special sale from 9 a.m. to 2 p.m. on Oak Street outside the library.
The sale, which will be the first book sale in more than a year, will be at held in conjunction with a Creative Communal Makers Event on Oak Street. The Makers Market will showcase local Brentwood area artisan makers, with family fun and live entertainment, as permitted by local health orders.
The Friends group will offer paperbacks for 50 cents each or four for $1. Also on sale will be handmade adult face masks and book bags. Children's face masks will be given away free. People who wish to join the Friends may also pick up a membership application at the sale.
---
10:00 am National Prescription Drug TAKE BACK
Note – Antioch, Brentwood, Oakley & Pittsburg all participating
On Saturday, April 24, 2021, from 10 AM to 2 PM, many law enforcement agenices and the Drug Enforcement Administration (DEA) will give the public another opportunity to prevent pill abuse and theft by ridding their homes of potentially dangerous expired, unused, and unwanted prescription drugs.
"This is a great way to get rid of unused prescription drugs in our homes," said Contra Costa Sheriff David Livingston. "These drugs could fall into the wrong hands and harm family members and friends. This is an opportunity for everyone to help prevent drug addiction and overdose deaths."
Needles and sharps cannot be accepted; only pills, patches, and liquids sealed in their original container will be accepted. Vape pens or other e-cigarette devices from individual consumers are accepted only after the batteries are removed from the devices
More info & participating agencies
---
12:00 pm: Purrs and Paws Baby Shower Event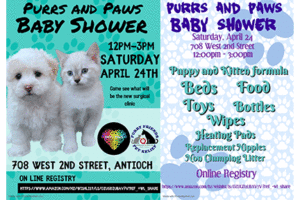 Furry Friends Pet Relief is hosting a Purrs and Paws Baby Shower on Saturday April 24 from 12:00 pm to 3:00 pm at 708 West 2nd Street in the City of Antioch.
Furry Friends Pet Relief has partnered with Dirty Paws Animal Rescue as a way to help with abandoned, orphaned or found neonates as they launched their wish list of items. The event is a puppy/kitten shower to allow you to come meet some of the current fosters and get fostering information. Have a snack and take advantage of a soon to be launched low cost spay/neuter clinic in downtown Antioch. If you can't make the event, they have provided a list of items on their registry on both Amazon and Chewy. All donations are accepted.
Can't make it to the event? Here's a link to our registry, any and all donations are greatly appreciated!
Furry Friends Pet Relief Program
Tax ID: 47-2163583
Website: https://furryfriendsfoodre.wixsite.com/fffr
Facebook: https://www.facebook.com/FurryFriendsPetRelief
---
12:30 pm: San Joaquin Yacht Club Opening Day Parade
On April 24, the San Joaquin Yacht Club will be hosting its opening day parade. All boats welcome and there is no registration fee. The event will begin at 12:30 pm and will cruise around Bethel Island. The theme of the event is "holidays" so participants are encouraged to decorate your boat your favorite holiday. Contact Scott McKenzie to register at (925) 766-3832 (text preferred). You may also visit: https://sjyc.org/
---
5:00 pm: El Campanil Classic Film Series: Do The Right Thing
For tickets: https://us.patronbase.com/_ElCampanilTheatre/Productions/CFS9/Performances
---
Future Events
Add your future event
To have your events added to ECT, Please email [email protected]