Here is a look at Christmas Light displays in East Contra Costa County which include the City of Antioch, City of Brentwood, City of Oakley and City of Pittsburg.
These displays included annual must sees and staples of the area from the area that include The Camby House, the Disney House to the Tunnels of Joy which is a month long display with several events–be sure to check them out.
Will continue to add homes as made aware so please send photographs and addresses so this list can be updated every Thursday through Christmas.
---
Tunnels of Joy 2021 Special Event Calendar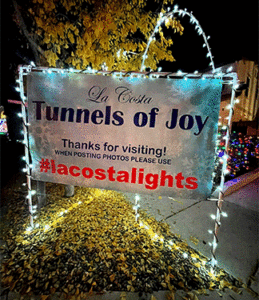 For most up-to-date info & fundraiser details, visit them on Facebook
Dec. 11
6:00 pm:  Harvest Sands Girl Scouts Christmas Carol (Torrey Pines stage Area)
7:00 pm: Peter Pan Foundation Singing Group (Torrey Pines stage area)
Dec. 18
6:00-8:00 pm – The Storytime Princesses (2612 Torrey Pines)
6:00 pm – Studio 26 Glee Christmas Carols
7:00 pm – Adams Middle School Jazz Band
8:00 pm – Heritage High School Drumline
Dec. 22
6:00 pm – Tunnels of Joy Fundraiser Raffle (Facebook Live, 2738 La Costa Drive)
7:00 pm – Liberty High School Drumbline (2740 La Costa Drive)
Drive by Disney "Spirit & Support" Event for the Antioch Community
Dec. 11: Go see the magnificent Disney lights display at 3732 Colonial Ct in Antioch while also being able to help the community. Items collected will be provided to the Antioch Police Department supporting the "Help for the Holidays" Event.
New unwrapped toys
Blankets
Hats/Gloves/Scarves/Socks
Gift Cards
$$$$$ – Venmo or Cash
Antioch Police Holiday Food Drive
@Holiday-Fooddrive
Drive by and drop off between the hours of 6 pm to 10 pm. If you cannot come by in person, please consider a monetary donation or if local, pick up arrangements can be made.  More info
---
Christmas Light Displays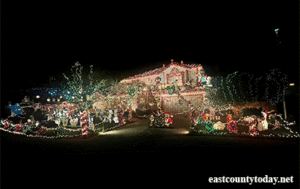 Antioch
1205 August Way
2556 Bluerock Dr.


112 brookside Dr

(entire court)
Camby Road – this one needs no introduction.
Castleford Drive
Chism Way
3732 Colonial Ct. – the Disney House

Desry's
212 Matsqui Rd
Park Lane
Old Glory Ct
4639 Shannondale
4345 Wallaby Ct.
29 W 16th Street
W Madill St.
Brentwood
**

La Costa Drive

(Tunnels of Joy — a must visit)
Avocado Pl
1825 Baldina Ct.
Canterbury Ct.
44 & 47 Cloverleaf Cir.
Diamond Springs Lane
Dill Ct.

Europena Drive

Fitzgerald Way
Highland Way — Highlands Light Display
Juniper St.

Martinez Drive

Pippo Ave

Poppy Court

Portsmouth Dr

Royal Tern Court
St. Regis Ave – this one is a hidden gem
Scenic Ct
Stonegate Cir.
Torrey Pines Drive (Tunnels of Joy – a must visit)
Scenic Ct
W Country Club Dr & Presidio

Discovery Bay
Oakley
Ashwood
Brooks Drive
Concannon Dr./Vintage Parkway
Kegan Lane

Sandhill Crane Ct

Sierra Trail Rd & Heavenly Way
Solitude Drive
100 Sonora Ct.


Windsor Lane
Pittsburg
Atherton Ave

Canyon Oaks Cir.

19 panoramic Ave
Ventura Drive (end of street–a Must See!)
To add an address, please email [email protected] and include address + city. A photo if possible. You may also Facebook Message it.