The Antioch Police Department have issued a series of updates this weekend regarding police activity across the city from arrests to other items of note, including crime statistics for 2020. This comes after this publication accused the Antioch City Hall, at the direction of members of the City Council issuing a muzzle on Antioch Police of their activity.
Here is a rundown which does not include their Press Release regarding a felony hit & run of a 15-year-old riding a dirt bike. 
Here you go:
Sunday, February 7
Residents in the Hansen Park area may have seen a lot of police activity just now. Officers were sent to a call of an individual armed with a knife experiencing mental distress. Upon the arrival of the first officers, the individual ran up the hill (with the knife) toward the park where children were playing. The entire APD dayshift responded (thankfully the next shift was already starting) to secure the park and form a containment perimeter.
Officer Kathain deployed his drone and located the individual still in possession of the knife on the hillside. Over the next hour, Officers Ewart, Milner and Amiri, along with Sergeant Rose, began a dialogue with him in an attempt to de-escalate the situation. We are glad to say the situation was safely resolved and he is now on his way to the hospital for emergency psychiatric intervention.
APD officers train regularly for these situations, including crisis intervention and resolution techniques. We have said this before, but we are so appreciative to our community for giving us the tools and resources necessary to help those who need it the most. If you are experiencing a psychiatric emergency, call 9-1-1 or go to the nearest hospital. Remember, we are always here for you.
Sunday, February 7
See something? Say something!
Yesterday, around 9:30 am, APD Dispatch received 9-1-1 calls reporting a vehicle collision at Lone Tree and Muirwood. While officers were responding to the scene, a witness reported one of the involved vehicles (a gray Buick), ran the red light and was fleeing the scene. The witness gave a description and license plate of the vehicle, but that's not all – he watched (from a safe distance) as the barely drivable Buick continued down Lone Tree Way for over two miles with the airbags deployed. Thanks to his actions, officers were able to quickly locate the vehicle and detain the driver, who it turns out had a suspended license and no insurance. He will have a future court date to explain his actions to a judge , and his now totaled vehicle was impounded.
What can you do if you see something that needs our attention? Remember, never put yourself in danger (that's what we get paid for!). Try to obtain a description of the vehicle + license plate and get on the phone with 9-1-1 (if an emergency) or by calling (925) 778-2441 if it's a non-emergency.
Thankfully, none of the involved parties to this collision were seriously injured (but we imagine they'll be a little sore today). When the witness was asked why he took action, he said "What if this happened to my family?" Can we get a special thanks to our Good Samaritan neighbor from Brentwood that saw something – and said something? Thanks for helping us keep Antioch safe!
February 6
Saving lives?
Catching bad guys?
Catching snakes?
Officer Mulholland, who works the night shift, was called to an apartment on San Jose Drive for an unusual trespasser . The resident (who wasn't too fond of snakes) was more than happy to have this fella out of his apartment, but it didn't end there… Officer Mulholland found a local animal rescue group that offered to provide room and board until a proper home can be found.
February 5
Yesterday, at about 12:10 pm, APD Dispatch got a call reporting a shoplifter at a store on Somersville Road. The shoplifter pulled out a knife on an employee that tried to stop him near the store exit. The employee provided an EXCELLENT description of his getaway vehicle, which was relayed to officers immediately over the radio. Officer Milner was in the area and saw a matching vehicle traveling northbound on Somersville. APD dayshift officers raced to the scene and were able to stop the vehicle at Auto Center and Sycamore Drives. The driver was safely detained, the employee was brought to the scene, and a positive identification was made. A large knife was recovered from his vehicle which the employee also identified as the same one used against her. Officers obtained video surveillance and there was no doubt they had their man.
A misdemeanor shoplifting incident was escalated to a felony robbery because a knife was used to threaten a store employee. He was fitted with a pair of chrome bracelets and given an express ride to the County Jail (so he could tell others that crime doesn't pay in Antioch).
What can you do if you witness a crime such as this? First – and foremost – NEVER put yourself in danger. Call 9-1-1 if it's safe to do so and be prepared to give a description of the suspect and vehicle (if applicable). Try to remember a distinctive article of clothing or something that stands out about their appearance. If you can remember all or part of the license plate, we can do a lot to find vehicles through computer searches and investigation. Thanks for helping us keep Antioch safe and kudos to the observant retail employee, who had the presence of mind to do all these things, and help us catch the bad guy!
February 4
With issues arising in the Sycamore area, our Problem-Oriented Policing Unit took a directed approach to solve some of the ongoing problems. Today's results ended with several arrests for marijuana sales, two vehicles towed, and an arrest for possession of an unregistered firearm.
The POP team would love to hear from you in ways they can help with crime in your area. You can email them at [email protected] or send an anonymous text tip to 274637 and use the keyword ANTIOCH.
February 3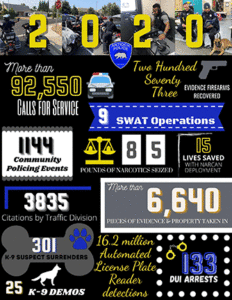 On Feb. 3, police Chief Tammany Brooks released data regarding their 2020 statistics which included more than 92,550 calls for service.
273 firearms recovered
85 pounds of narcotics seized
3835 citations by traffic division
133 DUI Arrests
301 K-9 suspect surrenders
15 lives saved with Narcan deployment
144 community policing events
9 SWAT operations
25 K-9 Demos
2 automated License Plate Reader Detections
Via Chief Brooks:
Every January, like all law enforcement agencies across the country, we here at the Antioch Police Department work to compile data and statistics from the previous calendar year. As I looked through the numbers, I was overwhelmed with a sense of pride. Pride because I recognized these numbers represented the hard work, dedication, professionalism, and true commitment of the men and women at APD who serve this community with honor and integrity. I'm honored to be their chief, just like I'm honored to be yours! I am thankful for the partnership between the Antioch Police Department and the community we serve, and truly believe it is what makes a positive impact on everyone's quality of life.
In the next couple weeks I'll be sharing more detailed information about 2020, such as crime rate, response times, staffing, etc. But for now, here is just a brief snapshot of some of the numbers I found interesting. I hope you do as well!
Sincerely,
Chief T
Editors Comment:
Nice to see Antioch Police back to informing the community of happenings again!