At 9:23 pm Saturday, Contra Costa County Firefighters received multiple calls about a structure fire in the City of Antioch in the 500 block of Woodmont Way.
At least one caller reported hearing multiple explosions and then reported smoke and flames from a home. Battalion Chief Jim Huntze said the fire investigator determined the fire started in the garage, but it is unclear what start the fire.
Huntze explained firefighters arrived on scene to locate a house on fire along with several vehicles also on fire and mobilized to make fire attack.
Two dogs were saved as they were in the backyard which Battalion Chief 5 located them hiding behind a shed uninjured–the homeowners let the dogs out in the backyard prior to going out of town for the day. No other injuries were reported.
Huntze said firefighters were able to limit the fire and damages to the house of origin and neighboring homes were saved, however the home was a total loss along with at least 3 vehicles, motorcycles in the garage as well as a trailer.
Fire crews from the East Contra Costa Fire Protection District assisted Contra Costa County Fire on this incident.
---
Other Saturday Incidents:
6:30 pm: 2-Alarm Vegetation fire in Antioch off Warbler & Kite Way
On this fire, due to fire crews at Station 83 and Station 84 as well as East Contra Costa Fire Protection District Station 53 being staffed with 4-firefighters on a rig, it allowed crews to mobilize quickly and prevent this fire from hitting homes and limiting it to just 6-acres.
1:21 pm: 2-Alarm vegetation fire in Bay Point at Mountain View Ave & Willow Pass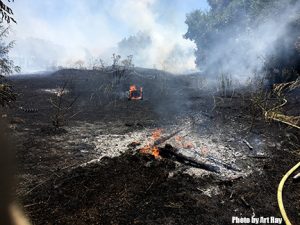 At 1:21 pm, Contra Costa County Fire Protection District firefighters were dispatched to a report of a vegetation fire in the 20 block of Mountain View Avenue off Willow Pass Road in Bay Point.
This fire threatened both an apartment complex as well as a dozen homes including getting into multiple backyards. It also killed about thirty chickens for food and some were pets.
The cause of the fire has not yet been established
1:01 pm: Basement Fire at USS-POSCO in Pittsburg
The Contra Costa County Fire Protection District firefighters were dispatched to a report of a commercial fire at USS-POSCO in the 900 block of Loveridge Road in the City of Pittsburg. By 1:08 pm, Engine 85 reported an acetylene oxygen tank on fire in the basement. By 1:15 pm, the fire was out and contained to the basement area.