The Newsom Vision for Early Childhood and What it Means for Contra Costa County First 5 Contra Costa is hosting the 2nd Annual Coffee & Kids Policy Breakfast to engage local leaders in important discussions on the growth and development of our children—with special guest speakers from the local, state, and national level.  
What: The 2nd Annual Coffee & Kids Policy Breakfast—a gathering of elected officials, school leaders, and other county decision makers—will be held on Thursday, May 30, 2019 at the Pleasant Hill Community Center. The focus and topic of conversation around this year's event will be The Newsom Vision for Early Childhood: What It Means for Contra Costra County.
Speakers at the event will include Kris Perry, Senior Advisor to the Governor on Implementation of Early Childhood Development Initiatives, as well as Congressman Mark DeSaulnier, Supervisor Diane Burgis, Supervisor John Gioia, and Lynn Mackey, Contra Costa County Superintendent of Schools.
There is excitement locally around the Governor's commitment to early childhood, one of the key components of his California for All agenda. Studies have shown that the first 5 years are the most rapid period of brain growth, with nearly 90% of brain development occurring by age 3. "The research very strongly supports investing in early childhood to reap education, health, and social benefits later in life. Governor Newsom will likely waste no time in putting into action the early childhood policies he promoted in his campaign," said Sean Casey, First 5 Contra Costa Executive Director.
First 5 Contra Costa stands ready to help implement these exciting possibilities in the months and years to come. "Everything we've done up to now, whether by building quality in early education, training the next generation of providers, or supporting and strengthening families, has prepared us for the time when public investments make high-quality early childhood education and family support universal," said Mr. Casey.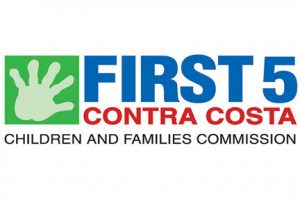 When and Where: Thursday, May 30, 2019 Pleasant Hill Community Center Perera Pavilion 320 Civic Dr., Pleasant Hill, CA 94523
Who: First 5 Contra Costa helps young children start school healthy, nurtured and ready to learn by investing in programs and activities focused on children during their first five years—the most important time in children's development.
Guest speakers include:
Kris Perry, a nationally recognized early childhood advocate, is the Deputy Secretary of the California Health and Human Services Agency for Early Childhood Development and Senior Advisor to the Governor on Implementation of Early Childhood Development Initiatives. She has been instrumental in driving effective early learning policy at local, state and national levels.
Congressman Mark DeSaulnier was elected to Congress in 2014 and proudly represents California's 11th Congressional District, which includes the majority of Contra Costa County. For more than 30 years, Mark has been a leader on issues that matter most to California families, like guaranteeing a livable wage, affordable and accessible education, and ensuring government is accountable to the public.
Supervisor Diane Burgis was elected to the Contra Costa County Board of Supervisors in 2016, representing District III and serves as a Commissioner to First 5 Contra Costa. Prior to her election as a County Supervisor, Diane was the Executive Director of Friends of Marsh Creek Watershed, an Oakley City Councilmember, and served as Director of Ward 7 on the East Bay Regional Park District which oversees over 120,000 acres in both Alameda and Contra Costa County serving over 2.6 million people.
Supervisor John M. Gioia is Chair of the Contra Costa Board of Supervisors. First elected in 1998, John has been overwhelmingly re-elected four times and represents 210,000 residents in the western most urban and diverse area of the county. He previously served for 10 years on the East Bay Municipal Utility District Board, serving as President in 1995 and 1996.
Lynn Mackey was elected as the Contra Costa County Superintendent of Schools in 2018 and previously served as the Deputy Superintendent for the Contra Costa County Office of Education. With over 20 years of experience working with the CCCOE, Lynn has devoted her life to helping our students overcome their own hardships, excel in school and thrive as adults.
Sean Casey has been with First 5 Contra Costa since 2000 and became Executive Director in 2005. In that time First 5 has become a leader in the county and the Bay Area in QRIS (Quality Rating and Improvement System), Help Me Grow and family support systems. Prior to joining First 5, Sean created the Fetal/Infant Mortality Review programs in Alameda and Contra Costa Counties to learn how health and social services can better prevent infant mortality, and supported and trained similar programs in numerous California counties and in several states.
Why: To further the understanding of the role we all play in improving early childhood education, and the innovative solutions that can be adopted to give our kids a brighter future.
If you are interested in attending or have any questions, please email Brian Kelley of First 5 Contra Costa at [email protected], or call 925-771-7325
About First 5 Contra Costa
First 5 Contra Costa invests in programs and advocates for policies focused on children during their first five years, the most important time in children's development. Since 2000, First 5 Contra Costa has invested more than $140 million in Proposition 10 tobacco tax funds to help Contra Costa's children get the best start in life.
Learn more: www.first5coco.org.