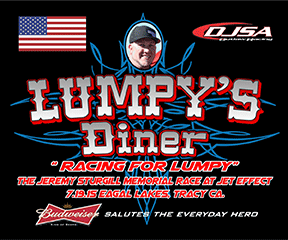 You are invited to join the Diablo Jet Ski Action Racing this weekend at the Eagal Lakes Resort – Tracy where they will host their "Jet Effect" event in honor of Jeremy "Lumpy" Sturgill.
The two day event will host a tribute lap on Sunday at 11:00 am (see schedule below).
According to Jim Lambert, the Jet Effect is our signature race of the series and it received its name from the "effect" the racers have had on thousands of spectators, kids, and on the jet ski racing world itself, but now this race has fondly taken on the name "Lumpy Effect" – due to the positive effect he had on so many people.
Lambert explained that prior to the day's racing taking place, their 6 safety ski team riders will be leading an on the water tribute lap and procession joined by all our DJSA racers while Amazing Grace is performed by an amazing guest singer.
The jet ski's will have tribute stickers honoring Sturgill after Sequoia Beverage and Budweiser of Visalia were touched after hearing about Sturgill so in response they donated the stickers. There will also be a hundred or so more that people can be obtained in exchange for donations of any amount to the trust fund.
Sequoia also donated two large banners in the same design that will be displayed over the start beach.
"What really struck home, is when I saw the sticker displayed the wording Budweiser salutes the everyday hero. That wasn't even planned in the design stage, but oh how perfectly that describes Lumpy," said Lambert. "He was truly an everyday hero to me, and thousands of others"
All proceeds from the event and our raffle drawings are being donated to Lumpy's GoFundMe account.
Lambert also said pro racers are coming from as far away as Las Vegas, Utah, and Palm Springs just to participate in this special tribute race for Sturgill.
At intermission, the organizers of the event are going to hold a "Race for Lumpy" contest, for select family members, friends, or Lumpy's employees, who will run the course for time against the stopwatch.
Participants will earn a little cash for their efforts, and whatever the time of the run is – we are going to match that amount in dollars for the trust account.  79 seconds – $79… 95 seconds – $95.
Lambert, who has worked 30 years with the Sheriff's Office, is used to responding to many bad situations in life, but explained when bad things happen to good people it's not fair but people do step up to help.
"I have always seen this to hold true that when bad things happen to good people, there are many good people around to make things a little better," explained Lambert. "This is our humble way of saying thank you, and paying tribute to a very special person in life, who was taken from us way to early. One of my safety ski team riders said it best. God needed a special angel in heaven, and he chose Jeremy".
The event is open to the public and there is no spectator fee for the racing, however, there is a $15 vehicle fee at the gate.
For more information on the Diablo Jet Ski Action, visit www.djsaracing.com or on Facebook
Tentative Jet Effect Schedule –
Sat – series race 4
730am –          Registration open
8am –              Course practice by class
915am –           Registration closes
10am –            Mandatory roll call and riders meeting
1030am –        Heat 1 all classes
1230pm –        Lunch
1pm –              Heat 2 all classes
230pm –          Staff break
3pm –              Heat 3 all classes
5pm –              Standups vs sitdowns volleyball
630 –               Rider appreciation bbq
730 –               Live band "Blues Mechanicx" playing from 730 to 930pm
10pm –            RC car race (or) destruction derby on the soccer field
11pm –            Goped figure 8 mayhem races on the soccer field
1130 –             Race 4 awards at the beachside bonfire
Sun – series race 5
7am –             Junior registration
730am –         Adult registration
8am –             Junior course practice / time trials / Junior-B GWC racing / Junior A –heat 2 / and a little surprise challenge…
930 –              Adult registration closes
930am –         Course practice by class
11am –           Mandatory roll call and riders meeting
1130 –            Jeremy Lumpy Sturgill Tribute lap performed by Team Orange, DJSA adult and junior racers, and possibly a little air support…
12pm –           Heat 1 all classes
200pm –         Lunch / Junior-A heat 3 / Lumpy's employees "Race for Lumpy"
300pm –         Heat 2 all classes
430pm –         Awards / Course tear down