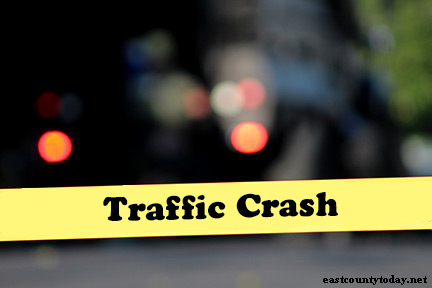 At 3:58 pm Thursday, a traffic crash on eastbound Highway 4 at Bailey caused the California Highway Patrol to issue a SIGALERT after the number 1 and 2 lanes were blocked.
While units were also on scene, at 4:22, it was also reported that a fire engine was struck.
Editors Note – this is the second time in a week where a Contra Costa County Fire Engine was struck on the scene of an accident. On Sunday, Engine 86 was struck on Highway 4.
Check back for updates.
Detail Information
4:26 PM
12
[28] ^***ISSUE SIGALERT*** E/B SR-4 W/OF BAILY RD. LANES 1, 2 BLOCKED DUE TO COLLISION. UNK ETO, EXPECT DELAYS. [Shared]
4:26 PM
11
[27] TRYING ARROWHEAD TOW FOR 1185R [Shared]
4:24 PM
10
[25] B19-404B REQ 1185R FOR A SONATA [Shared]
4:22 PM
9
[24] 19-404B 1ST TC IS 2 VEH 1181 2ND TC'S SD VS FIRE ENGINE — WILL BE 1182 [Shared]
4:21 PM
8
[23] 404B 1097 FIRE HAS LANE 1-2 [Shared]
4:16 PM
7
[22] PER FIRE 1097 UNABLE TO CLARIFY LINE 17 [Shared]
4:15 PM
6
[21] 404B CONFIRM FIRE IS 1097 [Shared]
4:05 PM
5
[12] [Notification] [CHP]-Problem changed from 1182-Trfc Collision-No Inj to 1179-Trfc Collision-1141 Enrt by CHP [Shared]
4:05 PM
4
[11] 1039 COCO 1141 [Shared]
4:04 PM
3
[8] [Notification] [CHP]-PER OFF DUTY ARM IN PASSING / XRAY OO VEH SITTING IN CD APPEARS UNRESPONSIVE / INFANT IN CARSET ALSO ON GROUN NEXT TO VEH [Shared]
4:03 PM
2
[6] [Appended, 16:03:36] [1] 5 VEHS INV'D [Shared]
4:02 PM
1
[1] [1] RP IN WHI MERZ VS GRY HYUN[Shared]