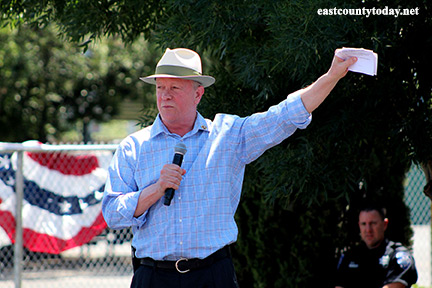 Washington, DC – In an effort to reduce the role of partisan bias in congressional district mapping and return power to the American voters, Congressman Jerry McNerney (CA-09) has introduced legislation to establish a set of standards centered on scientific and mathematical techniques.
H.R. 2057, the Fair and Inclusive Redistricting (FAIR) Map Act, would direct the National Academy of Science to conduct a study to develop guidelines, best practices and examples for congressional redistricting. The Academy's recommendations would also have to maintain geographic contiguity, compactness, and comply with the constitutional equal population requirement as well as the Voting Rights Act of 1965.
"Currently, each individual state sets much of their own criteria when it comes to drawing congressional districts," said Congressman McNerney. "This has resulted in alarming disparities and creates a domino effect that ultimately leads to the mass disenfranchisement of American voters."
The concept of "gerrymandering," which is the manipulation of district boundaries to favor a particular political party, is not new. The term was first used by the Boston Gazette in 1812 when a Massachusetts state legislative district drawn by then-Governor Elbridge Gerry was said to look like a salamander. In recent years, the partisan redistricting of legislative maps has become a high-profile issue, with legal challenges arising in a number of states. This past election, voters took action to try and curb gerrymandering, with three states voting to take the power of redistricting out of the hands of their state legislators.
"The act of drawing voting districts is vital to the functioning of American democracy," said Karen Saxe, Associate Executive Director of the Office of Government Relations for the American Mathematical Society. "The mathematical and statistical sciences have always played a fundamental role in drawing voting district plans, and with modern predictive techniques and computing power, can play an even more powerful role in this process. The American Mathematical Society does not endorse any one approach or metric for measuring fairness of voting district plans. We do urge, however, that mathematics and statistical science be employed to evaluate the fairness of district plans. I applaud Representative McNerney's efforts to set national, transparent standards that work toward enfranchising all voters."
Congressman McNerney has long been a staunch advocate for evidence-based policy making and good government reforms. As the co-founder and co-chair of the Bipartisan Campaign Finance Reform Caucus, he has introduced legislation to amend the constitution to eliminate political action committees and ban dark money in politics.
"Our system is broken, largely due to a cloud of secrecy that aims to keep voters in the dark," said Congressman McNerney. "The only solution is increased transparency, and that starts with the creation of impartial processes that are free from the self-interested influence and accessible to the public."
Rep. Jerry McNerney proudly serves the constituents of California's 9th Congressional District that includes portions of San Joaquin, Contra Costa, and Sacramento Counties. For more information on Rep. McNerney's work, follow him on Facebook and on Twitter @RepMcNerney.