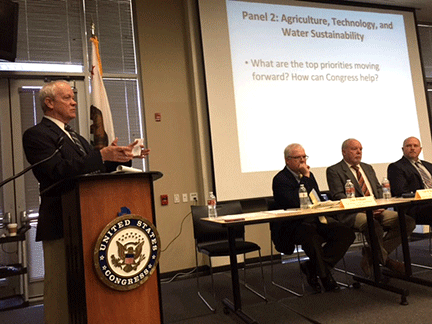 Discussions Focused on Water and Energy Efficient and Tech-Based Drought Solutions, Regional Self-Sufficiency, and Agriculture
Stockton, CA – With California in the middle of its fourth consecutive drought year, Congressman Jerry McNerney (CA-09) Tuesday hosted a California Drought Solutions Forum at the Robert J. Cabral Agricultural Center to look at different solutions, approaches, and partnerships that are needed to respond to this drought crisis. The public forum featured moderated discussions on how to advance crucial water and energy efficient technological solutions from experts that include farmers, water technology innovators, policy makers, state government, academia, and others.
"All communities across California are affected by this historic drought crisis and we are all being challenged to make do with less water. The impacts of the drought demand that we take action now through bold, innovative approaches to develop comprehensive solutions that protect California's water supply, economy, agriculture, and environment," said Rep. Jerry McNerney. "We must look at forward-thinking policies that include urban and agricultural water conservation and energy efficiency, water recycling and reuse, and regional self-sufficiency through stormwater capture and groundwater recharge. Doing so will vastly improve our drought response and long-term water sustainability."
Rep. McNerney moderated two diverse panels during the two-hour forum.
The first panel, titled "Water, Energy, and Technology: Partnerships and Solutions," highlighted technologies that would be the most effective in conserving and creating new water and saving energy, and the federal and state government partnerships and private investments that can best advance those technologies.
Participating panelists included: Dr. Robert Kostecki, Staff Scientist and Deputy Division Director at Lawrence Berkeley National Laboratory; Virginia Lew, Manager, Energy Efficiency Research Office at California Energy Commission; Cindy Tuck, Deputy Executive Director, Government Relations at Association of California Water Agencies; Mark Dixon, Executive Architect, Smarter Cities and Safer Planet Solutions at IBM; and Dominque Gómez, Director, Operations and Market Development at WaterSmart Software.
The second panel titled, "Agriculture, Technology, and Water Sustainability," focused on the tools, technologies, and policies that can help the agricultural sector become more resilient, and how we can best leverage those opportunities through federal, state, or local initiatives.
Participating panelists included: San Joaquin County Agricultural Commissioner Tim Pelican; Dr. David Zoldoske, Director, Center for Irrigation Technology at California State University, Fresno and member of the California Council on Science and Technology; Scot Moody, General Manager of Stockton East Water District; Richard Howitt, Professor, Agricultural and Resource Economics, at University of California, Davis; and Aric Olson, CEO, Jain Irrigation, Inc.
Studies and experts from the Pacific Institute, the University of California, Santa Barbara, and the Natural Resources Defense Council have shown that addressing California's drought problem with technology, science, and energy-related solutions has the potential to boost our water supply, expand use of existing limited resources, and build greater regional self-sufficiency.
Increasing the efficiency of our water supply, reusing existing resources through recycling, and improving stormwater capture capacities could produce up to 14 million acre-feet of water annually. That's the equivalent of supplying water to up to 14 million homes. These approaches would also ease pressure off of the Delta instead of disrupting its fragile ecosystem.
Congressman McNerney has shown leadership in pursuing and expanding bold, innovative solutions that create more water and address the energy-water nexus as part of a comprehensive approach to address California's severe drought crisis.
In July, Rep. McNerney held a roundtable with technology innovators and representatives from the renewable energy, agriculture, business, and water recycling sectors to discuss technology and science-based solutions to the drought. The Congressman also introduced bipartisan legislation to establish a smart water management pilot program meant to spur innovative projects.
Rep. McNerney has also introduced legislation calling on Congress to authorize 27 regional water recycling projects that can create water for irrigation, agriculture, conservation, and to increase the potable water supply.
Rep. McNerney has also spoken out on multiple occasions on the floor of the U.S. House of Representatives about the need to protect and fund State Revolving Funds (SRF) programs for clean and safe drinking water infrastructure.
Rep. McNerney also led his California and Oregon House Democrat colleagues in sending a letter to U.S. Senators Dianne Feinstein and Barbara Boxer to stress their concerns about the Republican approach.
The letter emphasized that any legislation addressing California's drought requires serious compromise and should include policies that do not negatively impact the economies, farmers, communities, and environments of California, Oregon, and other Western states.
###
Rep. Jerry McNerney proudly serves the constituents of California's 9th Congressional District that includes portions of San Joaquin, Contra Costa, and Sacramento Counties. For more information on Rep. McNerney's work, follow him on Facebook and on Twitter @RepMcNerney.