A large sewer line ruptured Tuesday afternoon in the City of Antioch which has closed several streets.
The break has impacted the area of G Street and W 7th Street which the City of Antioch confirmed G Street and J Street were closed from W. 4th St to W 8th Street and as of 5:00 pm, roads are still closed.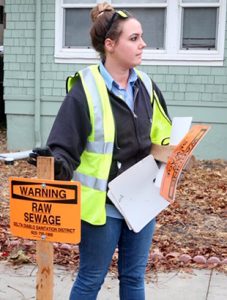 Dean Eckerson, Delta Diablo Resources Recovery Services Director said the sewage main break was first reported at 2:25 pm and had the main shut off within 30-minutes. The incident impacted about 4-blocks.
"This was untreated sewage which is everything that goes into the sewer line before it is treated," said Eckerson. "This line was installed about 25-years ago and a typical lifespan is 40-years to 50-years. We are not sure what we will find underneath but this was not an expected type of failure."
The cleanup effort will include city staff, wash water, a vacuum truck where as they wash the street and sweep it up, the truck with vacuum it up. They will then properly dispose it which prevents any further wastewater from entering into the storm drain or river explained Eckerson.
"This was a very quick response,  the weather is cooperating with us, we don't have rain. We have perfect conditions to conduct a thorough cleanup," said Eckerson.
The timeline for the repair is digging it up tonight and complete the repair tomorrow according to Eckerson who added they have a second redundant line which allowed them to shut it off and still provide service to the customers while they repair the line.
Delta Diablo, City of Antioch Public Works, Antioch Police Department, Antioch Code Enforcement all responded to the incident.
Public Works Crews are on scene working on a resolution.  The city advises that if you are affected by the overflow, please call Public Works at 925-779-6950, Ext. 0