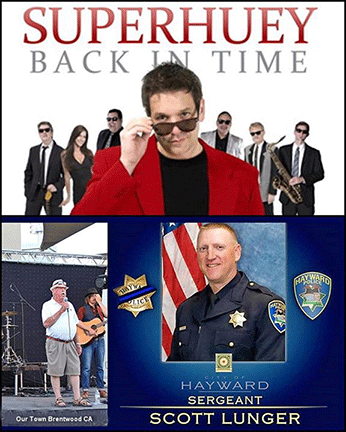 July 31: Brentwood Starry Nights Concert
This Starry Nights in Brentwood Summer Concert will feature the "Super Huey" playing Tribute to Huey Lewis from 7:00 pm to 9:00 pm at City Park, 710 Second Street, Brentwood, CA, 94513
 The city will be taking donations for the family of Police Sergeant Scott Lunger – So bring money & bring your American Flags.
The concert will be held in City Park, located at 710 Second Street in Brentwood.  The show will begin at 7 p.m.  All patrons are asked to follow park rules before, during, and after the concerts.  No dogs, no glass containers, and no audio/video recording devices allowed.  Ample parking is available in the parking garage.
Bring your blanket, chairs, and a picnic dinner and enjoy this FREE event.
---
 August 1 & Beyond
August 1: Antioch Police Neighborhood Cleanup
The Antioch Police Department will host its 62nd installment of the Neighborhood Cleanup Program. This is a collaborative community effort which involves active participation from The Antioch Police Department Crime Prevention Commission; Neighborhood Watch Program; Volunteers in Police Service, community volunteers and the Public Works Department.
The 62nd Neighborhood Cleanup event will occur on Saturday, August 1st from 9:00 a.m. to 11:00 a.m. at Hillcrest Park on Larkspur Drive. Please meet in the parking lot on Larkspur Drive.
Volunteers will receive instructions and the equipment necessary to accomplish the goal. The targeted area is within walking distance. Excluding inclement weather, future Neighborhood Cleanup events are scheduled for the first Saturday of every month and the locations will be announced in advance.
---
August 1: Hot Brentwood Days
Join Downtown Brentwood Coalition between 3:00 pm to 7:00 pm at Oak and First Street for Hot Brentwood Days featuring class cars, live music, cold beer and family fun.
The event is free and will also feature a kids zone along with raffle prizes.
---
August: Antioch Free Saturday Summer Concerts Return to Downtown Antioch
Once again Waldie Plaza in downtown Antioch will be the place to be on Saturday nights in August for free concerts by the river. Local bands will provide a variety of music from 6-8 PM in Waldie Plaza, located between G & I Streets (by Antioch City Hall off of 2nd Street).
Bring your lawn chairs or blankets and visit a downtown restaurant before the concert or bring a light meal/snack with you. Wadie Plaza is a designated park and park rules apply (no alcohol, dogs on leash, etc.).
The musical lineup is:
August 1st –

The PHDs (Contemporary, R&B, Latin, Oldies & Jazz)

August 8th –

Nicky D & the All-Stars (Old School)

August 15th –

The Love Handles (70's, 80's & 90's)

August 22nd –

Project 4 (Punk, Soul, Latin, R&B)

August 29th –

Toree McGee & Rodeo House (Today's Country)
---
Brentwood Theater Company Presents Hello Dolly
When: Weekends July 17th through August 2nd: 7:30pm Fridays and Saturdays; 2pm Sundays
Where: Allen E. Jones Performing Arts Center – 850 Second Street Brentwood CA 94513
Brentwood Theater Company is thrilled to complete its 6th season with Hello Dolly, one of the most iconic and longest-running shows in Broadway history. Directed by Steve Kinsella and produced by Jack Gaughan, Hello Dolly is an energetic and charming musical enjoyed by all, with an outstanding local cast of talented performers.
Tickets: Tickets are $25 for adults (19 – 64), $22 for seniors (65 and older), $18 for teens (13 – 18), $8 for children (6 – 12). Select your seats when you purchase in advance at www.thebrentwoodtheater.org
For More Information: Call 925-513-3863 or 925-437-6360, or visit www.thebrentwoodtheater.org
---
August 1: Brentwood Farmers Market
The Brentwood Farmers' Market on is open on Saturday from 8am to 12pm, Oak St. and First St.  New this year – they have expanded around the corner onto Oak St.
The season will run from March 7, 2015 to November 21, 2015.
---
August 1: Grand Opening House of Vintage Charm
You are invited to join House of Vintage Charm for their Grand Opening celebration at their new location at the Streets of Brentwood which offers a larger showroom. You may also enter a drawing for a chance to win free paint class, gift basket and giveaways.
---
August 1-2: Bethel Island 50's Bash
You are invited to join the Bethel Island Chamber of Commerce for their 28th Annual 50's Bash on August 1-2.
The two-day event features Catfish Races, kids zone, food, clothing and specialty booths.
On Saturday, there will be a custom car show and dog show. Sunday will feature a motorcycle show, crowning the queen, decorated golf cart and bicycle page as well as the rubber ducky races.
They also have an opportunity for those looking to be a vendor. Click here for the application.
---
August 2: El Campanil presents Little Joe y La Familia In Concert

Little Joe & La Familia has been one of the most popular Tex-Mex bands in the music industry.   Little Joe has been entertaining more than 40 years and has been described as the "
KING OF THE BROWN SOUND
". He has also helped pioneer "Tejano" music, a mix of traditional "norteno" music and country, blues and rock styles.
Gold Circle (Ground Level – 1st 3 rows): $45  (Sold Out)
Orchestra (Ground Level): $40
Loge (1st Level Upstairs): $35
Opera (2nd Level Upstairs): $30
To purchase tickets,
click here.
---
August 5: Small Business Expo
The public is invited to a free Contra Costa Small Business Seminar and Resource Expo that Assemblyman Jim Frazier is co-hosting with the Office of California State Board of Equalization Member, Fiona Ma, and the City of Pittsburg among others. The event will be held between 9:00 am to 2:30 pm (check in at 8:30) at the Elks Lodge located at 200 marina Blvd in Pittsburg.
The Event will have representatives of the California State Board of Equalization, the Small Business Administration, Internal Revenue Service, Franchise Tax Board, Economic Development Department and Small Business Development Center. Come learn about loan programs and services, sales and use tax basics, forms of ownership, employee and independent contractor guidelines, best business practices and other business resources.
Click here for more information
---
August 8: Hannah Nicole Vineyards & Winery presents Steely Dan/Chicago Tribute – Aja Vu
Please join us for the kickoff of our summer concert series!  Enjoy an evening under the stars on the lawn with our returning headliners, the Aja Vu, a tribute to Steely Dan and Chicago.
We will have  great summer fare on site for purchase, and we will have picnic "baskets" available for advance VIP tickets.  For more information, visit www.hnvwines.com
Other upcoming concerts include:
Please call with any questions, 925-513-9463 or email at [email protected]
---
August 9: EBRPD to Host Second Sundays in the Park
Join the East Bay Regional Park District at Big Break Regional Shoreline in Oakley as they host a family friendly event.
This month we will be discovering the wildlife that makes the Delta home, through games and activities; and of course S'mores will be happening around the campfire.
---
August 9: El Campanil presents #NewMagic Starring Alex Ramon

"Magician Alex Ramon returns to Antioch! #NewMagic is a family friendly magic and illusion show with a new style and a new flair! Be a part of the magic and witness wonders that bring smiles and laughter to everyone.
Don't miss your chance to see this illusion show on tour with only one performance in Antioch!
Alex Ramon has mesmerized millions around the world. His show was named the #1 attraction in Lake Tahoe for over 2 years, come and see why. Click here to purchase tickets.
---
August 22: Brentwood Bark in the Park
The Brentwood Advisory Neighborhood Committee, BANC, will be sponsoring our Bark in the Park event for the third year on Aug 22, 2015 in Brentwood City Park on the corner of Oak St. and 2nd Street. Registration begins at 9am and the parade begins at 10am. Costumes are permitted but not required. Registration is free but dogs must be up to date on their shots and on a leash.  For more information please contact us at [email protected].
---

August 28-29: Art Wine & Jazz Festival 2015
The Brentwood Art Society is hosting the 14th annual Brentwood Art, Wine, & Jazz Festival at The Streets of Brentwood, which brings together local vintners, local artists from multiple disciplines, and some of the Bay Area's finest musicians representative of multiple genres of Jazz.
Artist Garden
Twenty plus vendors featured original pieces by local artists who worked in varied media including oil, watercolor, pencil, clay, bronze, and multi-media, forty plus vendors in all.
Wine at the Fountain
A host of local vintners and wineries introduced you to some of the award winning wines that are produced right here in our own community, including Hannah Nicole Vineyards, Bloomfield Vineyards, Tamayo Family Vineyards, J Doran Vineyards, and Cline Cellars. For those who prefered a micro-brew, Black Diamond Brewery and BJ's Restaurant and Brewery provided cold brews.
Jazz On The Stage
Performers from among the internationally acclaimed musical talents that we are blessed to have reside in our Northern California Area took the stage to provide outstanding music during the event. Talents of our local high school students were showcased by performances by Big Bands of Liberty & Heritage High Schools and a cappella groups such as Divas, Pink Ladies, & Jag.
Family Affair
Activities designed to capture the interests of children young and old alike were again in the popular Children's Area, where children worked with clay, painted at the easels, or made a musical instrument. The Wall of Art displayed creations of students from the Brentwood Union School District. Also returning this year was the sand sculpture that's always a hit and Chalk Art, drawn on the street by local high school art students.
The Brentwood Art, Wine, & Jazz Festival is open to the public FREE of charge. It is the largest annual fundraiser of the Brentwood Art Society, which supports and contributes to continuing arts programs and events in the community, including the Art Docent program at all schools of the Brentwood Union School District, scholarships to graduating Seniors, summer Art Walk Events, the Artists Open Studio Tour, Student Art Show, Broadway Under the Stars theater performances, and a monthly Open Mic hosted by the city's poet laureate, Kati Short.
For more information, visit http://www.shopstreetsofbrentwood.com/event/art-wine-and-jazz-festival-2015/2145457363
---
August 29: Liberty Lions Band Boosters Present 2nd Annual Casino Night
You are invited to participate in a benefit fundraiser to support the Liberty High School Band between 7:00 pm to 10:00 pm at the Brentwood Community Center. Tickets are limited and cost $50 per person, $75 per couple, $20 meals only. No one under 21 is allowed. Order your tickets by calling Lynn at (925) 858-7088 or email [email protected]
---
September 12-13: 31st Annual Pittsburg Seafood & Music Festival
Nothing says late summer like Pittsburg's own Seafood & Music Festival, the two-day, outdoor extravaganza that draws thousands of visitors to Pittsburg every year. The Pittsburg Seafood & Music Festival, now in its 31st year, returns to the beautiful Pittsburg Marina Saturday, September 12th and Sunday, September 13th 2015.
The Pittsburg Seafood & Music Festival has long been one of the keystone events in Contra Costa County. This gastronomic extravaganza features lots of tasty treats including gumbo, craw-fish, BBQ oysters, steamers, muscles, chowder, fish & chips, lobster rolls, alligator on a stick, corn on the cob, an array of all types of foods for every taste!
The Pittsburg Seafood and Music Festival provides a safe and enjoyable environment for the whole family with a wide variety of arts and crafts on display, amusement rides for the kids, rock wall climbing, three live entertainment stages,  jet ski races, bath tub races, kite boarding demos,  beer pavilion featuring NFL football games, a wine pavilion and so much more!
http://www.pittsburgseafoodandmusicfestival.com/
---
Sept. 19: Heart of Oakley Festival
Vendors wanted for the Heart of Oakley festival! The festival will take place Saturday, September 19th from 11:00 a.m. to 5:00 p.m. in downtown Oakley. Vendors have until August 14th to sign-up. To download the vendor application visit our website.
The event will feature live entertainment, gourmet food trucks, wine tasting, microbrews, cultural exhibits, and an art show. There will be activities for children, including bounce houses and make-n-take crafts. For additional information check the event website at www.heartofoakleyfestival.com.
---
September 19: Brentwood Craft Beer Festival Tickets Now on Sale
The Downtown Brentwood Craft Beer Festival will be held from 1pm to 5pm on September 19, 2015 at the Brentwood Community Center. Tickets will go fast as last year sold out pretty quick.
Tickets are $30.00 Per Person and $40.00 at the door if it is not sold out. If you are a designated driver and wish to attend, tickets are $5.00. Tickets can be purchased at the Brentwood Chamber of Commerce office Mon-Thurs between 10:00 am to 5pm or on Fridays between 10:00 am to 1:00 pm. To purchase tickets, click here. For more information, visit their Facebook Page.

---
October 3: Downtown Brentwood Coalition presents OktoberFest
Join the downtown Brentwood Coalition between 3:00 pm to 7:00 pm for OktoberFEST featuring "Public Eye Band", Dachsund Parade, and Beer Stein Obstacle Race – Downtown Brentwood Oak & First Streets. We will update as the event gets closer.
---
To add your event, email [email protected]