In April, East Contra Costa Fire Protection District is set to hand over the reins of the District to Brian Helmick who will serve as interim fire chief.
Helmick will replace Chief Hugh Henderson who is retiring after serving as the District's fire chief since 2010 and having served 36-years in fire service—before that as a police officer.
Helmick, who began his career in 1995 with Morgan Fire, has been with the ECCFPD since 2002.  He is excited for the opportunity to lead and says the support he has been shown over the weekend was humbling with all the phone calls, text messages and conversations.
"It's been overwhelming," says Helmick. "It's been both tremendous and humbling what everyone has been saying. I am somewhat speechless; it's been nice to see all the support that I have. With that support, I realize I have a lot of responsibility going forward. It's been humbling and reinforces the responsibility I am about to take on."
During the process of the District looking for its next chief, the local firefighters threw their support behind Helmick, something he will never forget.
"It means everything to me that guys I have served with support me in this next position," explained Helmick. "They are the ones out there on the street doing the work every day. A large reason for what I do is to assure that they are able to do their job in a safe and reasonable matter. I've served with these guys as I worked through the ranks; they have always been a part of my team and consider them extended family. Having their respect motivates me to have the drive and find long term goals."
He further explained how treating people with respect and dignity is something that he always strives to do because it creates a mutual level of respect—something he tries to have with everyone and will begin working more with the community.
What made him apply for the Chiefs position was because it was a career goal and he believes he can make a positive impact on the District.
"I've been preparing for this position my whole life. When you are a kid, who doesn't want to be a fire chief. You go through life and opportunities and doors open and you have to see the opportunity in front of you and make it happen," explained Helmick. "With this position, I peripherally looked at it and leaned on those close to me to see if this was the right opportunity to take for not only myself, but for my family, the firefighters and the community. I looked at the opportunity to see if I can make positive change, positive impact on people's lives and if feeds into the vision and legacy I hope to leave for my family.  In the end, this was the right opportunity and the right time. It's very exciting."
With a District that has seen station closures, firefighter layoffs and three tax measure attempts fail, Helmick says one of his first priorities is to have an open line of communication to build an organization plan. With an improved plan, he believes the district will see positive change over time.
"My goal is to make positive changes in the district which will belter impact the members of the organization within their lives which will better improve the lives of the community we serve," said Helmick. "At the same time, we need to better capitalize on opportunities within the District that will  move us forward in a complex and trying time."
Helmick believes that the District has been challenged with its identity and it needs to better showcase who the fire district really is in terms of perception with the entire community.
He says he plans to seek out community stakeholders, meet with members of the community both internally and externally to seek understanding of their perceptions of where others thing the District should go and see if it meshes with where he believes the District should go and come up with a plan.
"I want to build relationships and gain perspectives on facts rather than assumptions," said Helmick. "I will take my fact findings analysis and will work with the organizational leaders (fire board & labor) to work and identify responsible, measurable and a reasonable plan to move us forward."
He says the goal is to begin to identify the global assumptions of the District and begin to combat them with facts which include reestablishing relationships and begin having an open line of communication.
"My goal is to have realistic expectations and present those to the community, we can't do that if the community is receiving mixed messages of unrealistic solutions by some in the community," explained Helmick. "When it comes to false rhetoric, we can respond to that better if we invest in enhancing our education and communication by being able to clearly understand what the false rhetoric is, why people believe it to be true, and are able to respond effectively with factual responses."
He added there are many misconceptions of what the District is and what they can and cannot do and he hopes to correct the information over time which will lead to greater fire service coverage in East County.
With regards to the 4th Station in Knightsen remaining open, Helmick says as Battalion Chief he has not been provided information on what the committees and meetings have discussed because he did not partake in them, but hopes to come up to speed quickly.
"We will fix this problem through the help of the community once we become united and resolve the complex financial issues of the District," says Helmick.  "There is no doubt we need to enhance fire and EMS services in East County. This issue is not a short-term goal, but rather a long term. Regardless of where you start, you first need to build any foundation on solid ground which is why I am starting from simple to complex approach which the end goal is to increase public safety services."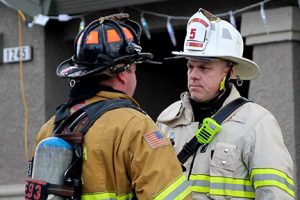 Helmick admits some fixes for the fire district are beyond his control and they will take time to correct, but he is committed to improving services and response times.
"I am from Brentwood, my wife and my daughters live in this community for the past 17-years, I want this problem solved just like everyone else.  I live here so I am vested in the community," explained Helmick. "A lot of our firefighters live within the District; they also want this problem solved. We are all wanting the same thing, it's just a matter of how we get there."
His concerns for the District include the lack of fire service which provides a low community level of safety as they have four stations covering 250-square miles which they do not even have enough engines for a structure response. This transcends into longer response times and heavier workload on firefighters. He also is concerned about not having advanced life support services.
"All of these concerns further motivate me to work with organizational leaders and the community to fix these challenging complex issues. I have a lot of concerns and it's time to talk about them with individuals within the community," says Helmick. "Both in time and collectively we will strive to chip away at our complex issues with the end goal to continue to find ways to increase public safety and responses in East Contra Costa County."
When asked what the community is getting with "Brian Helmick", he was quick to point out he tries to live his life to a cause that is bigger than him, whether is religious or an organization, he is about community service and his family.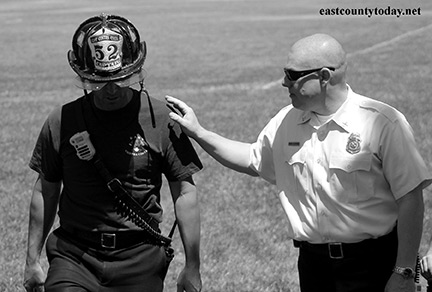 "I am extremely dedicated and loyal to the things I believe in. I don't do anything halfway," says Helmick. "I love people and want to serve and help people wherever they are at. I want to have a life of service and be part of something bigger than myself. I like being a part of something that people say it's impossible to get done. I like to work on a team and at times I have unrealistic expectations but hold myself to those expectations.  I believe in doing what is right always and trying to live my life's actions through behaviors and not words."
Helmick admits his mentors and heroes are from biblical times, but explained his grandfather impacted his life as a public safety member himself—fire chief at Shell in Martinez for more than a decade.
"He was a strong man, had strong moral convictions and showed me how to lead not only in an organization, but in family life," explained Helmick. "He was my biggest mentor and I try and fill his shoes every day. Outside of that, there are many people, too many to name that have a thumbprint on me who have invested time in me. They know who they are. You are only as good as those you surround yourself with. My wife is my hero by supporting me and my family, she is my greatest achievement. I share this accomplishment with anyone who has taken the time to invest in me."
He also noted working under Chief Hugh Henderson has taught him a lot about serving the community and hard work.
"There has not been any one individual who has invested more hours in this organization than Chief Henderson. He has a heart of gold, he cares about his people," said Helmick.
As Helmick spends the next month learning the duties under Chief Henderson he looks forward to working with the entire community through the many complex situations before the District.
"I believe we have the right people to figure it out and I am looking forward to facilitate the work amongst the stakeholders and hold the conversation that will move us into the next chapter of the Districts life," said Helmick. "I thank the fire board for trusting me with this position as well as the members of the organization who looked to me to fill this position. I welcome the challenges and I hope in time we will take steps to move us into a positive direction. The overall goal is to provide a sustainable level of fire services in east county and to address the long-time retention challenges."
Helmick's contract is for a 1-year term with a review after 6-months.