As of 8:00 am Wednesday morning, residents served by the East Contra Costa Fire Protection District (ECCFPD) may be waiting longer for engines to respond after a new Automatic Aid Agreement with Contra Costa County Fire Protection District (CONFIRE) goes into play.
Aid agreements are complex, but it really comes down to a resources available versus border issues between ECCFPD Battalion 5 and CONFIRE Battalion 8.
Battalion 5 (ECCFPD) – Brentwood, Oakley, Discovery Bay, Byron, Bethel Island, Knightsen, Morgan Territory.
Battalion 8 (CONFIRE) – Antioch, Pittsburg, Bay Point
Under the new agreement, the closest resources will still be available on calls, however, there is now a limit on the number of engines that CONFIRE will send into ECCFPD based on available engines at any given time – a matrix has been created and the most Battalion 8 will send is 4 resources. After that, mutual aid comes into play.
Battalion 8 has a total of 8 units, here is what they will send based on availability:
8 avaiable they send 4
7 available they send 3
6 available they send 2
5 available they send 1
4 or less they send 0
Just eyeballing the busy nature of Battalion 8, I'd say about 90% of the time the battalion has 2-3 engines on a call at any given time so using the matrix, CONFIRE will only be able to send 1-2 engines at the request of ECCFPD.
So how exactly does CONFIRE impact aid in ECCFPD?
Should there be a structure response anywhere in Antioch, Pittsburg or Bay Point, 5 of the 8 engines are dispatched thus leaving CONFIRE with less than 4 available resources. That means should ECCFPD need additional aid, none will be provided from Battalion 8.
If a fire breaks out in ECCFPD the same time as Battalion 8 has one, the 4th and 5th engines will be provided from a Central County station say Concord, Martinez or Pleasant Hill, or from CALFIRE, Rio Vista, Tracy, Stockton or even Livermore. This means more lives could be lost and more property destroyed due to time and distance.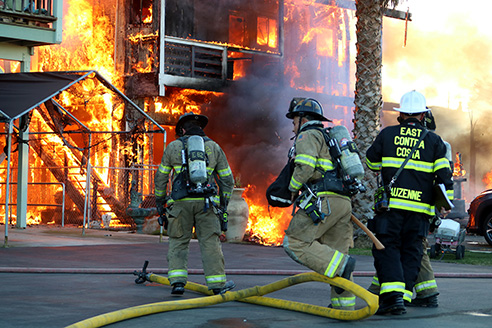 Chief Brian Helmick called this new agreement the closest thing to going Mutual Aid without calling it Mutual Aid. He is 100% correct.
This is not good news considering the average response time in ECCFPD exceeds 8:00 minutes. But CONFIRE is not to blame, they have to cover their own needs first in Antioch and Pittsburg because the old aid agreement was unfair to CONFIRE and its taxpayers who had basically been supplementing ECCFPD services for years.
In fact, in 2018 alone, CONFIRE provided ECCFPD with auto aid a total of 612 times with 1,063 engines. In return, ECCFPD provided Battalion 8 with 362 calls for 409 engines. Simply put, CONFIRE provided 654 more engines which is not equitable—especially at nearly 2-calls per day on average.
Even worse, with Battalion 8 becoming the busiest battalion in Contra Costa County, they do not even have enough stations of their own as Antioch is in need of a 5th fire station sooner rather than later to cover its 115,000 residents.
Which brings up perspective, Antioch currently is about 30-square miles and has 4-fire stations and badly in need of a 5th. The ECCFPD is roughly 250-square miles and only has 3-fire stations for about 125,000 residents.
Si
mply put, time and distance are not two friends to ECCFPD firefighters, they are mortal enemies.
Going forward, ECCFPD is now forced to do something they should have been required to do all along when voters rejected a Parcel Tax in 2012 which is provide fire service with the resources they have rather than rely on a band aid solution of auto aid. Sadly, two additional tax measures also failed which aimed to provide increased fire services.
Some will call today the beginning of "finally feeling the pain", but the truth is this is a new reality of living within ones means. I would also argue most of the public in East Contra Costa fail to grasp the dire urgency that fire service in East Contra Costa is in crisis mode.
Residents can now expect longer response times or face the likelihood a potential a fire engine may never show up. It will also create more wear and tear on ECCFPD firefighters, its engines, and equipment because 3-fire engines responding to calls is not a good long-term solution.
But even worse, the District is already a defensive operations minded district based on time and geography, with aid coming from further away, those house fires only get larger, vegetation fires become a huge problem, and medical calls that could have been minor might become deadly.
And let's not forget, on rural fires that require a water tender, its technically just 6-firefighters on a fire because 3-firefighters are on water tenders. This is unacceptable by any standard.
This is not to take away from the job ECCFPD firefighters have done or will do, these are in
credible men and women who are doing more than required with less. They have saved so many lives, so much property that it is incredible. And let me point out, while the focus typically is on a home that may have burned down, the real aspect of the fire that often goes unnoticed was saving the 2-3 other houses that could have caught fire.
So before people become critical of the firefighters, lets remember this is an issue that has not been solved and dates back to Prop 13 in 1979. No one has solved this funding issue.
The reality is this aid agreement is a 40% drop in services dispatched to calls—it would make anyone look bad regardless if you are fighting fires or in a desk job.  If people are offended by watching houses and barns burn to the ground, that is actually the new reality because the district is going to focus on life safety measures vs. saving property—yes, they want to save property, but that is now secondary objective.
This is an ugly situation all around and will be an emotional one when lives and property are lost.
CONFIRE is not to blame, in fact, they have been a good neighbor while going above and beyond what anyone could have expected from them. The current administration at ECCFPD is not to blame, they are simply living within their means as directed by the public three times and a lack of political will in Sacramento to fix this issue.
While a revenue enhancement of some sort continues to be debated leading up to 2020 election, the public should take every opportunity to educate themselves on why the District will be running much harder, longer, and see greater pain going forward.
It is my belief that the public should immediately support the funding of a 4th and 5th station within new development funding future stations (6-9). Remember, nothing is ever free. Neither is fire service.
Perhaps now, the residents served by East Contra Costa Fire will take the time to get educated about the District, the service models, and understand the urgency that needs to be taken to add stations as soon as possible.
This aid agreement ripped off a band aid that had assisted ECCFPD in covering up its lack of service levels for many years which many residents were unaware of. That is now gone and the holes in service levels will begin to show, again at no fault to the firefighters.
The public has been warned this day would come for almost a decade. That day unfortunately is here and the only losers going forward are the public who rely on the response of firefighters to show up when called upon.
Sadly, ECCFPD firefighters will do more with even less than they already had.
---
Mike Burkholder
Publisher of ECT
[email protected]