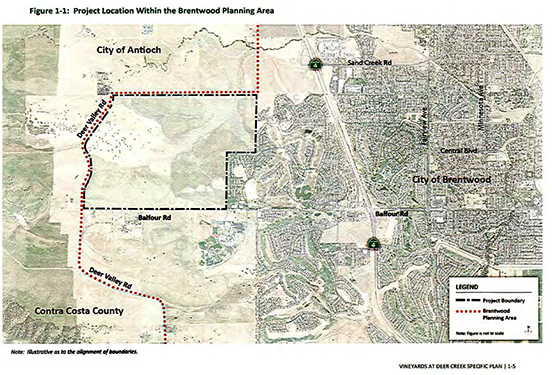 On Monday, the East Contra Costa Fire Protection District will hold a special meeting of the board to discuss a Memorandum of Understanding for Measure L and adopt the Vineyards at Deer Creek Specific Plan.
The proposed MOU could provide new funding the fire district which has just 3 fire stations covering 249-square miles. The deal could provide $2 million in new revenue plus start up costs for establishment of a two person firefighter/EMT or paramedic rescue squad.
If approved in November, Measure L would allow for development of 2,400 homes in an 815-acre area on Balfour Road just outside city limits. Of the 2,400 homes, 80% will be restricted to those 55 and older over a total of 555 acres.  The project will also encompass commercial uses envisioned for agricultural and farm-to-table related civic and commercial uses and functions, community recreation uses, and at least 225 acres of open space.  The entire build out of the project could take more than 20-years to complete.
According to the fire district, their Strategic Plan calls for a present need to reduce response times for emergency services throughout the District—which includes bringing in additional funding to ensure financial stability and sustainability. The strategic plan calls for new development to cover the costs by development fees and community facilities districts.
Should Measure L be approved by Brentwood voters which would allow for a development of 815 acres to be built out, the project will increase a need for additional emergency services
Should the District approve the MOU:
District and GBN agree to work together and with the City on long-term funding mechanisms for District needs. It is the District's goal to achieve response services at levels consistent with National Fire Protection Association standards
Project will provide enhanced funding upon annexation through 14+ percent tax rate allocation to District, resulting in estimated additional revenues in excess of $2,000,000 annually.
Prior to the issuance of the first occupancy permit in the Project, GBN agrees to establish a community facilities district to provide ongoing funding, in conjunction with other revenue measures, for fire protection and emergency response services at funding levels consistent with those provided by other new development in Brentwood.
Approval of tentative map for the Project will be conditioned upon GBN agreeing to provide all equipment and startup costs for establishment of a two person firefighter/EMT or paramedic rescue squad (the "Additional Unit") (est. $750,000). District and GBN will collaborate with the City and other developers to identify funding for operations of the "Additional Unit" on a fair share basis.
GBN agrees to participate with other new development on a fair share basis, and other sources of funding, in the development, design and construction of a new fire station, if such a station is determined to be necessary.
In recognition of the foregoing benefits, the District agrees to support approval and annexation of the Project and GBN to support District efforts to secure alternative district-wide funding.
District and GBN agree to work cooperatively with each other and the City through the entitlement process to incorporate the commitments in this agreement in a formal agreement or agreements
If you Attend:
Special Meeting of the ECCFPD Board
5:00 pm at Brentwood City Council Chambers
150 City Park Way, Brentwood CA