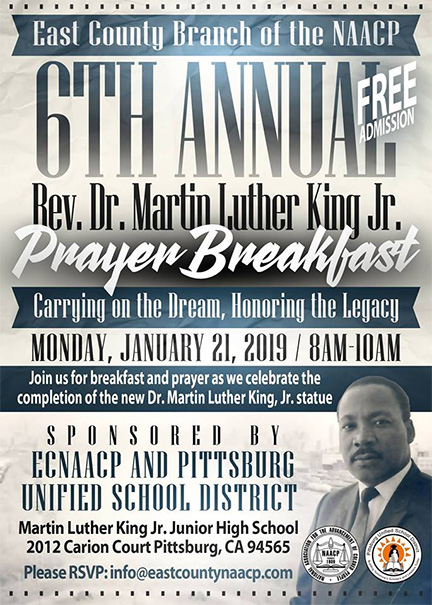 Several events will be occurring Monday in East Contra Costa County to commemorate Martin Luther King Jr. Day.
---
8:00 am: East County NAACP Prayer Breakfast
Join the East County NAACP for their 6th annual Rev. Dr. Matin Luther King Jr. Prayer breakfast from 8:00 am to 10:00 am. The event is at Martin Luther King Jr. Junior High School (2012 Carion Court, Pittsburg). To RSVP: [email protected]
---
9:00 am City of Antioch
Honor Martin Luther King Jr. and give back to your community. Three activities to choose from on Monday, January 21, 2019.
Graffiti Removal & Mural Preparation
Sunset Drive & A Street
Dead Tree Removal and Landscape
Nick Rodriquez Community Center & Antioch Senior Center
3rd & F Streets
Litter Pick Up
Prewett Community Park
---
11:00 am: Pittsburg
In Pittsburg, they are hosting the 18th Annual Dr. Martin Luther King event beginning at 11:00 am where they host a Ralley & March at (Pittsburg City Hall – 65 Civic Ave). At 12:00 pm, Multicultural Celebration at the Creative Arts Buidling (250 School Street). For more info, www.showinglove.net
---
12:00 pm: Antioch High School
Antioch High School hosts a salute to Greatness #Unity honoring the life and legacy of Martin Luther King Jr for his 90th Birthday. The event will begin at 12:00 pm with a unity rally at Eells Stadium. The celebration starts at 1:30 pm with Music Masters, Divine Voices, DRMS Dancers and much more at Beede Auditorium at Antioch High School.
---
TUESDAY – Contra Costa County Board of Supervisors

Humanitarians of the Year Awards to be Presented at 41st Dr. Martin Luther King, Jr. Commemoration Event
Martinez, CA – In 2019, fifty one years will have passed since the assassination of Dr. Martin Luther King, Jr.  That sobering reminder will serve as a backdrop to Contra Costa County's 41st Annual Commemoration of Dr. King's life and legacy. The Board of Supervisors welcomes the public at the free community celebration on Tuesday, January 22, 2019 starting at 11 am in Contra Costa County's Board Chambers located at 651 Pine Street, Martinez, CA.
"Contra Costa County invites the public to celebrate with us the legacy of Dr. Martin Luther King, Jr. and also honor a Humanitarian and Student Humanitarian of the Year. These honorees exemplify the social justice and community commitment values championed by Dr. King," said Board Chair, Supervisor John Gioia.
The theme of the event is "the Dream Starts with Me". The celebration will feature keynote speaker, Sheryl Lane, executive director of Building Blocks for Kids, a nonprofit organization in Richmond, CA. With parents who grew up in the segregated South and moved to California for greater opportunity, Ms. Lane will share her perspectives on Dr. King's legacy.
Countywide recognition will be given to the Adult Humanitarian of the Year, Reverend Donnell Jones, of Richmond, CA and the Student Humanitarian of the Year, Yassna Ahmadi, a senior at Pinole Valley High School. Their stories of leadership, advocacy, and service have impacted Contra Costa County, its residents and communities, and reflect the spirit of Dr. King's work and achievements.
The program includes entertainment from students from Contra Costa School of Performing Arts and the Los Medanos College Gospel Choir. After the commemoration, join us outside Board Chambers for a free buffet lunch, complete with peach cobbler for dessert.
To learn more about this community event, visit www.contracosta.ca.gov/5211/community-events. For details on past ceremonies and prior humanitarian winners, visit the Dr. King Ceremony website found in the "Community" section of Contra Costa County's website