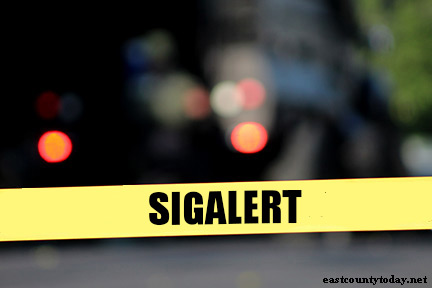 At 7:13 am Monday, the California Highway Patrol issued a SIGALERT after a tractor trailer fire and brush fire was reported on I-580 westbound in Dublin.
The crash originally was reported at 6:45 am which involved leaking fuel which resulted in a big rig catching fire.
As of 7:13 am, the No.3 and No. 4 lanes were closed and cleanup was underway. CHP said there was an unknown time of re-opening.
Detail Information
7:41 AM
20
[40] 1039 DOTCC
7:37 AM
19
[39] A118-051 REQ OES # //COMPANY STARTING THEIR OWN CLEAN UP CREW ETA 15 MIN
7:24 AM
18
[38] A118-051 VIA LL 80-100 GALLONS DIESEL FUEL SPILLED CONTAINED IN RDWY
7:13 AM
17
[37] ^***ISSUE SIGALERT*** #3-4 LANES BLOCKED DUE TO VEHICLE FIRE AND BRUSH FIRE, WB I580 E/OF EDEN CANYON RD, UNK ETO
7:12 AM
16
[36] 1039 DOTCC
7:12 AM
15
[35] A143-580 #3-4 LNS CLOSED
7:08 AM
14
[34] A118-051 REQ SIG ALERT
6:59 AM
13
[29] [Appended, 07:00:51] [3] XFR FIRE
6:59 AM
12
[26] ADDTL FIRE UNITS ENRT
6:58 AM
11
[25] STARTING BRUSH FIRE NOW
6:58 AM
10
[28] [Appended, 07:00:51] [2] SEMI TK
6:58 AM
9
[24] [Notification] [CHP]-ALCO FIRE REQ CHP EXP [Shared]
6:58 AM
8
[27] [Appended, 07:00:51] [1] TRUCK ON FIRE ON RHS
6:58 AM
7
[23] A143-580 FIRE 97
6:52 AM
6
[15] XFER FIRE
6:52 AM
5
[12] XFER FIRE
6:51 AM
4
[11] PER ANOTHER BIG RIG NOW ON FIRE
6:46 AM
3
[4] XFR RP TO FIRE
6:46 AM
2
[3] REEFER POSS LEAKING FUEL – BOTH TK AND TRLR ON FIRE
6:45 AM
1
[2] RHS – BIG RIG WITH REFER TRLR