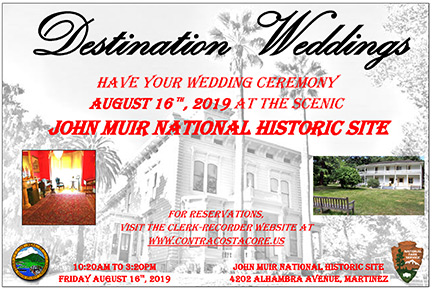 Couples can get married next month at the John Muir National Historic Site
MARTINEZ – Back by popular demand, the Contra Costa Clerk-Recorder, in partnership with the National Park Service, will host weddings next month at the picturesque John Muir National Historic Site.
This Destination Wedding opportunity will be Friday, August 16th from 10:20 am to 3:20 pm. There are 16 appointments available for this one-of-a-kind venue.
Couples have the option of having their ceremony inside the historic Victorian-style home or take a stroll amid the rolling orchards and exchange nuptials in front of the Martinez Adobe built around 1849. The Clerk-Recorder has held Valentine's Day ceremonies inside the historic home for the past two years; each time couples have quickly filled up available appointments.
"We are excited to once again partner with the National Park Service and the staff of the John Muir National Historic Site to give couples this memorable opportunity," Clerk-Recorder Joe Canciamilla said.
National Park Service representatives expressed enthusiasm at the opportunity to host happy couples on the historic grounds and share in their special day.
Couples interested in holding their ceremony at the John Muir National Historic Site should call 925-335-7900 or go to www.contracostacore.us and click on the "Make a Ceremony Appointment" button.
A civil marriage ceremony is $60.  Couples must obtain a marriage license prior to their ceremony.  They can obtain a public marriage license for $86 or a confidential marriage license for $90.
The Contra Costa Clerk-Recorder holds Destination Weddings each season at unique and picturesque locations throughout the county. The next Destination Wedding event will be at the California Theatre in Pittsburg on Valentine's Day 2020.
For more information, contact Joseph Barton, Clerk-Recorder Services Supervisor, at 925-335-7900.