Whomever said, "Christmas is for kids", is completely mistaken!  Adults can be surprised too!  From fudge, to fondue, to adult beverages we'll do.  Turn back the Grinch's and Scrooges and begin the celebration!
To add to the mystic of the celebration, shall we begin with some bubbly, for some, a splash of orange juice as well.  For the White buffs, let's mix it up with a White Blend.  For those looking for red, maybe a medium body, mild Mourvedre or Zinfandel will do.  And to pair with the Chocolate tort or Mousse, try a Late harvest or 2.
Rather than peruse the hundreds of labels out there, look no further than out your backdoor.  Break from the trends and the norm, and give Contra Costa another look!
For your festivities, the Contra Costa Winegrowers Association would recommend:
---
Campos Family Vineyards – Sparkling Rose' $32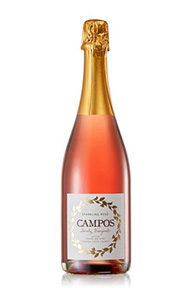 The Campos Family Vineyards are located in Byron.  Their mission is to yield exceptional wines and be good stewards of the land while providing a peaceful, relaxing environment that brings families and the community together.
Living on and owning a vineyard is a dream come true for Ric and Michelle. The spiritual significance of a vineyard, with its abundant vines, branches, fruit and harvest, reaches far beyond the wine. Like a family, a vineyard is at its best when firmly rooted, well-tended and blended with love. With all of the charm of Napa tucked away close to home, Campos Family Vineyards is truly a hidden gem. Enjoy the splendor of this unique destination getaway, with its striking landscape and glorious sunsets! We consider it a privilege to share Campos Family Vineyards and fine wines with you and your guests.
This Sparkling Rose is a Chardonnay & Viognier base, with a dose of the beautiful red fleshed Alicante Bouchet Grape that adds color and flavor. Sparkling Rose' is one of the most versatile, food friendly wines and is easily enjoyed on its own. Low residual sugar and higher acid makes pairing very easy. Try it with a simple seafood and sausage paella, havarti cheese, grilled lobster or roasted lamb. Any time is a great time to enjoy some bubbles!
For more on Campos Family Vineyards, visit them at www.camposfamilyvineyards.com
---
Cline Cellars – 2017 Cashmere White – $20
While the winery may be in Sonoma, the Clines tend to over 400 acres of vineyard in Contra Costa, primarily located in Oakley and Brentwood.  Fred Cline started Cline Family Cellars in 1982 in Oakley, California, making his first vintages from original plantings of Mourvedre, Zinfandel, and Carignane, some of which dated back to the 1880's.
In 1989, Fred purchased a 350-acre horse farm in Carneros and moved the winery to Sonoma County. As one of the original Rhone Rangers, he began planting varietals that included a number of vineyards dedicated to Syrah, Viognier, Marsanne, and Roussanne. Since those first plantings, Fred, and his wife Nancy, have continued to plant vineyards throughout Sonoma County, expanding to include more classic varieties like Pinot Noir, Merlot, and Chardonnay. Cline Family Cellars is a family-owned and operated winery, built on a passion for winemaking and rooted in respect for the land.
The Cashmere White has bright flavors of peach and pear, floral aromas, and toasty vanilla notes.  It is a blend of Chardonnay, Pinot Grigio, Muscat Canelli to add fruit flavors and floral aromas, and Viognier to round out the mix.
For more on Cline Cellars, visit them at www.clinecellars.com
---
Nunn Family Vineyards – 2016 Mouvedre' $20
The Nunn Family Vineyards are located in Brentwood.  Farming attracted the Nunn Family to the rich soils of Brentwood almost 150 years ago. At just 20 years old, George Nunn came to town to work the grain harvest. He saw promise and a successful future living and working with the kind people of Brentwood. Slowly, other family members joined him and they set down roots in their beautiful surroundings. They began building a farming business that is still run by third, fourth and fifth generation members of the Nunn Family.
Today, the Nunn Family, supported by a team of dedicated professionals, continues a tradition of bringing superb agricultural products to California.
Love for the land and a passion for farming runs strong throughout the Nunn Family. This outlook on life formed the momentum behind Orchard & Vine. Ron and Shirley Nunn purchased the property with a vision of growing wine grapes and farm market produce while creating a destination that would allow others to enjoy the surrounding scenic beauty and to experience agriculture firsthand. The vineyards were planted in 2013, and the 2016 vintage represents the first fruits of their vision.
This Mouvedre' is rich and vibrant, with hints of a spicy character, it is the perfect wine for food pairings with slow braised, grilled and stewed meats.
www.orchardandvinebrentwood.com
---
Wedl Wine Cellars – 2014 Zinfandel $16
Wedl Wine Cellars is in Oakley.  The seeds for making Wedl Wine were planted in 1973 when Don and Carole got married in North Carolina, and a friend of Don's from Wisconsin brought along a bottle of dandelion wine to the wedding.  Soon after, the young couple moved to California and Don decided that since he lived so close to the country's most prestigious wine country, he'd try making some himself. With little money and lots of friends, Don began making award winning wine in the family garage with the help of other young parents, neighbors and friends of friends.  The Wedl garage in Pleasant Hill became a year-round tasting room, crush pad and bottling center.  And "Wedl you taste the difference" became a trademark that everyone seems to remember.  What people won't do for free wine and good friends! John Dobleman joined the eclectic winemaking group in the Wedl's garage in 1987.  He quickly became one of the permanent members and lured many of his skydiving and teacher friends to join in the fun.  In 2000, John and his wife, Tina, moved to Oakley and planted 1½ acres of zinfandel grapes – thereafter known as Mad John's Zinyard.
The Wedl Zinfandel is initially a little earthy in the nose, sometimes referred to as "forest floor" but quickly settles to cherry and violet. Initial palette is dominated by black currant and cherrywood, with currant transitioning to a short, simple finish. Well-balanced acidity, but not overwhelmed by alcohol.
For more information on Wedl Wines, visit: www.wedlwinecellars.com
---
Favalora Vineyards Winery – 2015 Late Harvest Zinfandel $24
The Favalora Vineyards are located in Oakley, but wines are made in Livermore.  Frank's winemaking expertise is a combination from long time Oakley grower, Stan Planchon and the iconic winemaker, Kent Rosenbloom.
The Late Harvest Zinfandel is full of vibrant, berry fruit flavors, with the color of garnets.
For more information on Favalora Vineyards Winery, visit Facebook.
---
For more information about the Contra Costa Winegrowers Association check them out online, or on Facebook.