PLEASANT HILL – Currently, there are approximately 8,401 teachers educating more than 176,000 students in Contra Costa County's public schools. To recognize their efforts and bring much-deserved honor to the teaching profession, the participating school districts in the county recently named their Teachers of the Year (TOY) representatives.
The upcoming school year's 22 TOYs represent 17 (of 18) Contra Costa County school districts, the Contra Costa Community College District, and the Contra Costa County Office of Education (CCCOE). Most of these representatives, those who teach grades K thru 12, are eligible to compete in the Contra Costa County TOY competition. The two top teachers in the county TOY program will represent Contra Costa County in the California State TOY Program this coming fall.
"We are extremely proud of these tremendous educators," said Karen Sakata, Contra Costa County Superintendent of Schools. "They were thoughtfully chosen to represent their schools and districts, and truly represent what is best about public education."
The county's TOY program is directed by the CCCOE. With such a high caliber of teaching professionals to draw from (21 teachers eligible), the CCCOE's TOY program uses a three-stage selection process, with a point and percentage system to determine the final candidates as follows:
I Application Screening:
On April 13, a committee of 10 judges, representing the county's education, business, and public-sector partners will carefully review the TOY representative applications submitted by the school districts. This committee independently read and rated each application. After the application screening and scoring are completed, four teachers will be selected to advance to the next two phases as finalists.
II Classroom Observation and Interview:
April 10-May 25, a small committee of education specialists and business partners will observe the four finalists interacting with their students. Immediately following, the committee will interview the candidates, discussing topics such as their teaching philosophy and techniques.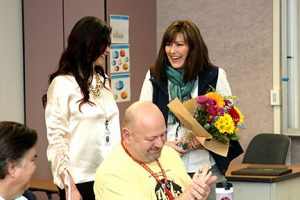 III Speech Presentation:
On July 24, the four TOY finalists will each give a three- to five-minute speech to another panel of a dozen educators, business, and public-sector representatives who will judge the finalists on their speech and presentation skills.
On the evening of September 27, 2018, all 22 TOYs, accompanied by their families, friends, and co-workers (an audience of close to 500) will be honored at the annual Contra Costa County Teacher of the Year Dinner Celebration, held at the Hilton Concord. Ms. Sakata, who serves as master of ceremonies, will introduce all 22 TOYs to the attendees. This will be followed by the four finalists giving their three- to five-minute speeches (same speeches given in July) to the filled banquet room. Finally, the night will come to a dramatic conclusion with the announcement of the two 2018-2019 Contra Costa County Teachers of the Year.
2018-2019 Contra Costa County Teacher of the Year Representatives:
Lynn Alamillo, San Ramon Valley Unified School District, Bella Vista Elementary
Glen Barker, Contra Costa County Office of Education, Northgate High School
Joanne Chen, West Contra Costa Unified School District, Mira Vista School
Shanna Gagnon, San Ramon Valley Unified School District, California High School
Cherie Giannotti, John Swett Unified School District, Carquinez Middle School
Elizabeth Gonzalez, Liberty Union High School District, Heritage High School
Bonnie Ha, Walnut Creek School District, Buena Vista Elementary School
Katie Halberg, Brentwood Union School District, Mary Casey Black Elementary School
Carol Levin, Orinda Union School District, Glorietta Elementary School
Cecil Nasworthy, CC Community College District, Los Medanos College
Barry Penning, Byron Union School District, Discovery Bay Elementary School
Kelly Perkins, Mt. Diablo Unified School District, Ygnacio Valley High School
Erik Radkiewicz, West Contra Costa Unified School District, Pinole Valley High School
Rosie Reid, Mt. Diablo Unified School District, Northgate High School
Michael Ruibal, Pittsburg Unified School District, Black Diamond High School
Andrea Salas, Martinez Unified School District, Alhambra High School
George Seymour, Oakley Union Elementary School District, O'Hara Park Middle School
Michelle Stark, Antioch Unified School District, Deer Valley High School
Karlene Steelman, Moraga School District, Joaquin Moraga Intermediate School
Katherine Walton, Acalanes Union High School District, Acalanes High School
Scott Westphal, Lafayette School District, Burton Valley Elementary School
Melissa Anne Wunschel, Knightsen Elementary School District, Knightsen Elementary
Note regarding eligible participants:
Seventeen of the eighteen Contra Costa County school districts represented, and the CCCOE are participating in this year's TOY program.
Each year, one instructor from Contra Costa Community College District is submitted to the TOY program for his/her outstanding body of work with their designated college. The colleges rotate each year between Diablo Valley, Los Medanos, and Contra Costa. (These instructors do not compete in the State Teacher of the Year competition.) This year is Los Medaonos College's turn.
Due to the larger number of students and teachers in their districts, West Contra Costa USD, Mt. Diablo USD, and San Ramon Valley USD are allowed to submit two TOY candidates
Follow Contra Costa County's Teacher of the Year program on Twitter: #cocotoy