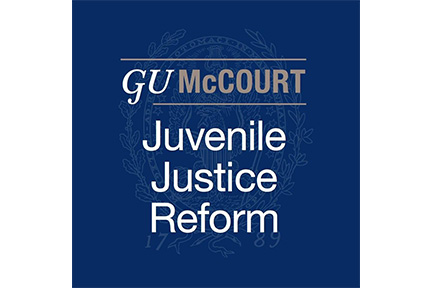 Martinez, Calif. – The Georgetown University Center for Juvenile Justice Reform and the Center for Children's Law and Policy selected a team from Contra Costa County and the City of Richmond for its "Reducing Racial and Ethnic Disparities in Juvenile Justice" Certificate Program. The team from Contra Costa County was selected from a competitive pool of nationwide applicants. The program will begin with a week of training in March of 2019 at Georgetown University.
The Reducing Racial and Ethnic Disparities Program is an intensive training designed to support local jurisdictions in their efforts to reduce racial and ethnic disparities in their juvenile justice systems. After completion of the program, participants will be responsible for the development of a data-driven local Capstone Project reform effort. Participants will also be given technical assistance to aid in the implementation of their project.
Contra Costa County's goal in participating in this program is to further systemic and lasting change that will reduce racial and ethnic disparities in our juvenile justice system. An equally important goal for our team is to ensure deliberate and thoughtful collaboration between county agencies, the school districts, and the community in pursuing reform efforts.
"I am honored to have our office and coalition selected to this prestigious program. We must increase options to positively and successfully divert young people away from the juvenile justice system. I am look forward to working with the members of or coalition, and inviting our partners from the school districts and child welfare system to join the table. We can give our youth a second chance by providing them with a positive and strong support system within our overall criminal justice system," said Diana Becton, Contra Costa County District Attorney.
As is typical of jurisdictions throughout the country, Contra Costa County has historically collected and reported very little data on its justice-involved youth. In Contra Costa County, Blacks make up about 9% of the population, around 25% identify as Latinx, and 46% of the population is White. While minority residents comprise a slight majority of the County population, they comprise more than 90% of the youth detained in the County according to Probation data from 2016 (with Black youth making up 50% of those detained, Latinx youth comprising 35% of this total, and less than 9% of the detained youth being White).
In a statewide ranking of the largest racial disparities in local youth justice systems, reported in January 2018 by The W. Hayward Burns Institute for Justice Fairness & Equity, Contra Costa's rate of disparities is the fifth worst in California. When compared to their White counterparts, in 2013 Black youth were 8 times more likely to end up in court, 10 times more likely to be found delinquent, 8 times more likely to end up on probation, and 24 times more likely to be placed in detention after adjudication. Additionally, data from 2014 shows that Black juveniles were 24 times more likely to be placed in confinement at the Department of Juvenile Justice.
"The Probation Department's mission is to support positive outcomes for youth," said Lesha Roth, Assistant Chief Probation Officer. "We are grateful for this opportunity to work with our justice partners through the Capstone Project to further our efforts to reduce racial and ethnic disparities."
Contra Costa County's team includes:
• Diana Becton, District Attorney
• Venus D. Johnson, Assistant District Attorney
• Robin Lipetzky, Public Defender
• Donte Blue, Deputy Director, Contra Costa County Office of Reentry and Justice
• John Ebrahimi, Probation Manager, Orin Allen Youth Rehabilitation Facility
• Bisa French, Assistant Chief of Police, Richmond Police Department
• LaShante Smith, School Psychologist/Climate Coordinator, West Contra Costa Unified School District
• Stephanie Medley, Director of Education & Justice, RYSE Center in Richmond