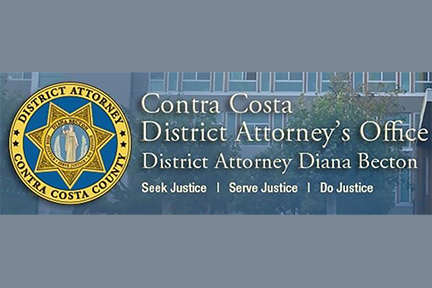 Martinez, Calif. – The Contra Costa County District Attorney's Office, in commemoration of National Crime Victims' Rights Week (NCVRW), April 7-13, 2019, is raising awareness about crime victims' issues and rights and introducing the community to the important resources and services available. Tuesday at 9:30 a.m., the Contra Costa County Board of Supervisors will be presenting a proclamation in recognition of National Crime Victims' Rights Week. Our Office will then host a recognition ceremony to honor the awardees of National Crime Victims' Rights Week.
The awardees for this year's recognition are as follows:
Special Courage: Juliann Marlang – she was a 22-year-old student when in 2016, her boyfriend, the defendant shot her at close range in the temple. Ms. Marlang will be blind for the rest of her life because of this violent assault.  Throughout the criminal process, Ms. Marlang was cooperative and her family was supportive.   Ms. Marlang and her entire family were present at the sentencing.  Her sister addressed the court that day and told the court how Juliann's life has changed forever.  Juliann Marlang and her family have displayed courage and resilience in the aftermath of a violent crime, and her bravery, that which was necessary to face the defendant in a courtroom, will never be forgotten.   She inspires us all to be brave and persevere.
Making a Difference: Sarah Alpert – Ms. Alpert is a counselor at Carondelet High School in Concord.  Ms. Alpert is being recognized for her support and dedicated advocacy for sexual assault victims.  Ms. Alpert provided a safe space for disclosure of sexual assault at the school.  In two instances, she supported the victims throughout the court process, and during one sentencing, she provided a "compelling and insightful statement to the court detailing the severe impact that the rape and its aftermath had on the victim."  Ms. Alpert recognized the need for on-campus education in the areas of consent and victim shaming and worked tirelessly to bring the District Attorney's Office Campus Sexual Assault presentation on these topics to 750 Carondelet High School students, and to the students at De LaSalle High School.  Ms. Alpert made a difference in the lives of these students, and she has made a huge impact in the community.
Above and Beyond: Jesse Gregory – On December 17, 2017, Jesse Gregory was driving his UPS truck in Concord.  He had stopped to deliver some packages at a local business when he saw a recreational vehicle with smoke billowing out of it.  Mr. Gregory heard people shouting and screaming, so he ran across the street to assist them.  One individual started to spray the RV with water and two people tried to go inside but immediately exited.  When he learned that someone was trapped inside the RV, Jesse Gregory went inside and found the unconscious victim pulling him to safety. This fire was the result of a heinous act of arson and without Jesse Gregory's swift heroic action that day, the victim may not have survived.  Mr. Gregory acted from an instinct to help another human being.  He is being recognized for his selfless bravery, which saved the life of a crime victim.
Victim Advocate: Sandra Guiterrez-Banales – she has lived in the City of Richmond for over 25 years and she has a passion for West County and the people there.  She attended Contra Costa College with an emphasis in Child Development.  Ms. Gutierrez-Banales has worked as an advocacy professional for 19 years.  She began by volunteering at her church's resource center assisting Spanish-speaking parishioners who were victims of crime.  She wanted to advocate for those who did not have a voice in the community.  She volunteered for Contra Costa County Interfaith Services where she lobbied politicians and groups for services, housing and public safety for vulnerable populations. She also worked for First Five/Community Engagement Program for five years, for STAND For Families Free From Violence and for Community Violence Solutions for the past 10 years.  In 2016, Ms. GutierrezBanales was hired as a Victim/Witness advocate at the Contra Costa County District Attorney's Office.  Sandra Gutierrez-Banales is being recognized for her dedicated advocacy to West County crime victims, particularly the Spanish speaking population.  She finds the work incredibly rewarding every day when she  is able to help someone understand the criminal justice system, connect
Support Staff: Laura Muro – Ms. Muro graduated from Mt. Diablo High School and attended Los Medanos College in Pittsburg.  She worked at UPS for 16 years and became a manager at the Alamo location.  She also worked at Long's Drugs, now CVS, at the same time for many of those years.  She began with Contra Costa County in the Community Services Bureau serving low-income families and helping them to enroll in childcare.  She transitioned to a position created for her at the Brentwood Library as a bilingual clerk helping Spanish-speaking families access the myriad of services in the library system.  She was hired at the District Attorney's Office in 2016 as a Senior Clerk in the Victim/Witness Assistance Program where she supports the advocates and assists victims.  Ms. Muro's role continues to grow within the VW Program due to her initiative and incredible work ethic.  She was part of the VW team who supported the multi-agency Golden Dragon investigation working with victims and she still maintains contact with them several years later.  Ms. Muro was taught by her father to work hard and fight for what she believes in, and she finds it most satisfying to work hard helping others.  She is an asset to the District Attorney's Office, a place that she calls "home."
DA Investigations: Senior Inspector Rick Rivera – Senior Inspector Rick Rivera began his law enforcement career at the Concord Police Department as an intern, a Community Services Officer and a patrol officer.  Senior Inspector Rivera moved quickly from patrol to Investigations where he spent the majority of his career as a detective investigating child abuse, sexual assault, child death and homicide cases.  In addition, Senior Inspector Rivera was a School Resource Officer, Children's Interview Center forensically trained interviewer, a member of the countywide Child Abduction Protocol Team and recognized Domestic Violence Expert witness in the areas of the cycle of violence, stalking and strangulation.  He has qualified and testified as a domestic violence expert witness over 40 times.  In 2013, Senior Inspector Rivera came to the CCC District Attorney's Office.  Initially assigned to Worker's Compensation Fraud, he assisted in the multi-agency investigation of the Golden Dragon case. In 2014, He was assigned to the Child Abduction Unit where he has recovered more than 100 children.  He is a member of the Internet Crimes Against Children Task Force.  Senior Inspector Rivera is also working to become a certified Polygraph Examiner.  Senior Inspector Rivera is being recognized for always going beyond his job duties to pursue justice for victims of violent crime
Attorney: Deputy District Attorney Alison Chandler – Originally from Texas, Alison Chandler graduated from the University of Texas Austin with a Liberal Arts double major in History and Philosophy.  She received her law degree from the University Of San Francisco School Of Law, and California became her second home.  From law school, Ms. Chandler was hired at CCCDA.  She had assignments in misdemeanors, felonies, Juvenile, Domestic Violence, Auto Insurance Fraud, Sexual Assault, Felony Filing and currently, the Homicide Unit.  DDA Alison Chandler was nominated this year for her work with the families in her homicide cases where she recognizes that the connections she builds with surviving family members support the successful prosecution of the cases and build relationships within the community.  In addition, she teaches the Advanced Level Sexual Assault class to detectives; she runs the JFK Law School Moot Court Program where she previously taught Evidence for three years, and she serves on the California Governor's Office of Emergency Services Sexual Assault Board. DDA Chandler Alison enjoys time with family and loves being a "soccer mom."
Law Enforcement: Detective Joseph Nunemaker -Brentwood Police Department, Detective Nunemaker began his law enforcement career in Fairfax, Virginia where he was a police officer for five years.  He was a Field Training Officer and Spanish translator for Fairfax Police Department as well.  He came to Brentwood Police Department in 2014 where he is a Field Training Officer, Spanish Translator, and Crisis Negotiator.  In addition, he reactivated the BPD Mountain Bike Program, a proactive community outreach and enforcement program.  Detective Nunemaker is currently a General Crimes Detective with a focus on domestic violence, sexual assault and child abuse cases.  In a domestic violence case, Detective Nunemaker built trust with the victim, and he demonstrated his concern about her future as a survivor of domestic violence by working to secure drug treatment for her.  He is being recognized for his efforts to support a domestic violence victim not only throughout the criminal justice process but also in the process of healing in the aftermath of crime. Detective Nunemaker is truly a community champion.
Probation Officer: Nancy Kenoyer – Nancy Kenoyer graduated from Sonoma State University.  When she first graduated, her career took an unexpected turn and she landed in the cell phone industry for many years; she values that experience because it taught her "that if something is not right; speak up." She knew she had a different calling so she went back to school and earned her Masters degree in Clinical Psychology.  During graduate school, she worked as a temporary employee at Juvenile Hall because the hours were flexible.  She found the work that she was meant to do and began her career as a Deputy Probation Officer in Contra Costa County.  She worked in the Juvenile Division as part of the Mentally Ill Offender Program, and the Youthful Offender Treatment Program.  For the past four years, Ms. Kenoyer has been a DPO in General Adult Supervision.  Ms. Kenoyer is being recognized for her work in the area of victim restitution.  While the work can be complex and frustrating and the system does not always function smoothly, Nancy Kenoyer is committed to finding the information on behalf of victims and holding defendants accountable for those losses.  She wants to be part of the solution and fix the system.  On behalf of victims, the DA's office is grateful for her efforts and her commitment to the community.
During the week, the District Attorney's Office is honoring champions in advocating for expanded support and services to communities affected by crime.
Tuesday, April 9, 9:30 a.m. at the Contra Costa County Board of Supervisors Chambers (651 Pine Street, Martinez), then our office is hosting the 9th Annual Crime Victims' Rights Week Recognition Ceremony, 10:30 a.m. to 12 noon, 900 Ward Street, Martinez, RSVP to 925-957-8650.
Thursday, April 11, 6:30 p.m. vigils in two locations: 2151 Salvio Street, Concord (Family Justice Center) and 65 Civic Ave, Pittsburg (Pittsburg City Hall)
Saturday, April 13. 5:30 p.m. Survivors Speak National Healing Vigil, 2621 Shane Drive, Richmond (Sojourner Truth Church)
This year's theme – Honoring Our Past. Creating Hope for the Future. – encourages commemoration, honor, and respect toward the crime victim advocates, allied professionals, and selfless volunteers who have courageously worked for increased rights for crime victims. The theme also invites us to look toward a future of inclusive, accessible, and innovative resources and services for survivors.
For additional information about this year's National Crime Victims' Rights Week and how to assist victims in your community, please contact our office at 925-957-8650 or visit www.contracostada.org.
For additional ideas on how to support victims of crime, visit OVC's website at www.ovc.gov.