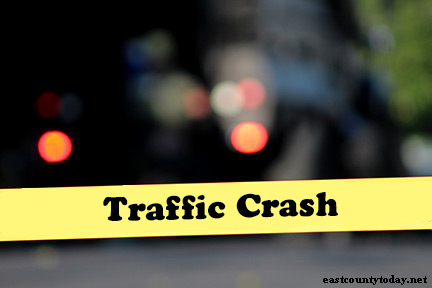 At 3:28 pm Tuesday, Contra Costa County Fire Protection District responded to a report of a vehicle crash at Kirker Pass Road near Hess Road in the City of Concord.
It was reported that vehicle veered off the roadway and was at the bottom of the hill with at least one person ejected and not responsive.
A second AMR unit was requested to the scene and firefighters confirmed they had the roadway shut down.
Check back for updates.
Detail Information
4:07 PM
17
[57] 19-S4 19-S4 CONTACTED 19-405B VIA CELL PHONE — ADV'D TRFC IS OPEN UP AND ABLE TO GO CORRECT WAY
4:05 PM
16
[56] B19-405B 97 KIRKER PASS AND CONCORD PD HAS CLOSED DWN BUT OPP TRFC NEEDS TO BE STOPPED TO GO W/WAY
3:55 PM
15
[54] 19-405B POSS SUSP VEH WHI MERZ DRIVEN BY WMA
3:53 PM
14
[53] 19-2X ADV PITTSBURG PD TO BOL FOR VEH THAT MAY HAVE DAMAGE POSS INV
3:49 PM
13
[51] B19-405B POSS 20002 / ROAD RAGE INCIDENT
3:46 PM
12
[49] B19-405B 97 ON OPP SIDE OF CD
3:45 PM
11
[48] B19-405B FIRE IS COMING W/WAY WILL BLK LN AND WILL NEED TO GO WW ALSO TO GET TO TC
3:43 PM
10
[44] [Notification] [CHP]-REQ ETA [Shared]
3:43 PM
9
[43] 1141 1097 TRANPORTING
3:34 PM
8
[38] AFTER HILL, AFTER TURN — MANY VEHS PULLED OVER
3:34 PM
7
[35] ALL OCCUPANTS OUT OF VEH
3:31 PM
6
[31] 1039 CONCORD PD WILL CHK THEIR SIDE
3:28 PM
5
[17] 1039 1141
3:28 PM
4
[16] PSBYS TURNED THE VEH ONTO IT'S SIDE
3:28 PM
3
[15] 1039 1141
3:27 PM
2
[11] IN A DITCH RHS
3:26 PM
1
[7] [Appended, 15:27:24] [3] VEH OT ON RHS