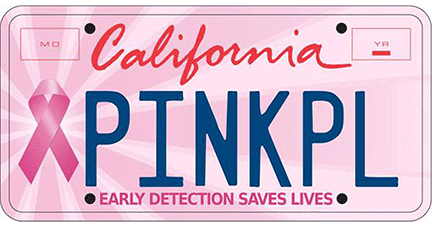 Breast Cancer Awareness License Plate advocates announced this week that Pink Plates are now available for pre-order after final approvals occurred on the plates.
The Department of Motor Vehicles will start production of the plates once a total of 7,500 paid pre-orders occur. The program will expire if not enough plates are ordered by August 2016.
Former Assemblywoman Joan Buchanan sponsored Assembly Bill 49 which was signed into law in September 2014 where a portion of the revenue from the plates will go toward the Department of Health Care Services.
A portion of funds generated from sales for the California Pink Ribbon License Plate will be deposited into the Breast Cancer Control Account, which funds the Every Woman Counts (EWC) program (click here).
EWC is administered by the California Department of Health Care Services (DHCS) and provides free clinical breast exams and mammograms to California's underserved women.The mission of the EWC is to save lives by preventing and reducing the devastating effects of cancer for Californians through education, early detection, diagnosis, and integrated preventive services, with special emphasis on the underserved. EWC partners with county departments of public health and county health consortia across California to provide women with local, easy access to screenings.
The Bill took more than two-years of effort of five breast cancer survivors (Heather Solari, Chere Rush, Deborah Bordeau, and Heather McCollough from East Contra Costa County) working with legislators to bring pink plates to California after its been available in more than 30-states.
The group who organized PinkPlate.org is now encouraging people to share the pinkplate.org website with your friends, family, co-workers via e-mail, Facebook, Twitter, Instagram, and any other form of social media, and tag it #PinkPlate
Go to www.pinkplate.org to see the design, get answers to Frequently Asked Questions, and place an order for your very own "Pink Ribbon" license plate today.
The cost of the plates range from $50 to $98.