At 10:40 pm Saturday, the East Contra Costa Fire Protection District responded to a report of a vegetation fire at Eden Plains Road and Chestnut in unincorporated Brentwood.
Upon arrival, firefighters located a series of spot fires along three power poles with wires down and a sheared power pole.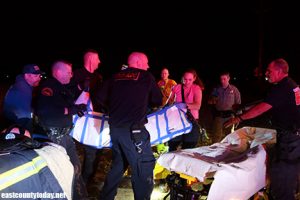 While on scene and working to put out the vegetation fires,  a report came in of a vehicle versus a pole pole in the same location.
That is when a Contra Costa County Sheriffs Deputy, who was providing traffic control on Chestnut located a vehicle in the field.
Upon further investigation, they located a female who was belligerent in the field and was not cooperative. They had to restrain her as she was suspected of being under the influence of alcohol and/or drugs.
As of 7:00 am Sunday, 9 people on Eden Plains Road are without power according to PG&E. The incident is under investigation with CHP.