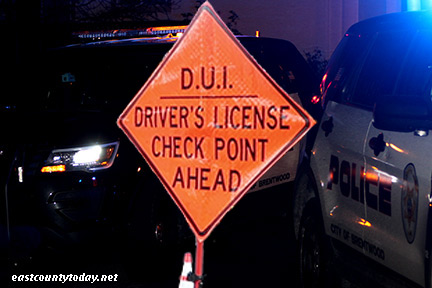 The Brentwood Police Department reported Monday that last week they conducted a DUI checkpoint on Sand Creek road that resulted in 5 people being taken into custody on July 12.
According to Police Sergeant Mark Louwerens, there were no actual DUI arrests during the checkpoint. Two were for warrants and the others were for driving on a suspended CDL for a prior DUI conviction, which is a misdemeanor charge. They also made contact with 1,200 drivers.
In California, alcohol involved collisions led to 1,155 deaths and nearly 24,000 serious injuries in 2014 because someone failed to designate a sober driver. Over the course of the past three years Brentwood PD officers have investigated 52 DUI collisions which have resulted in 16 injuries.
Studies of California drivers have shown that 30 percent of drivers in fatal crashes had one or more drugs in their systems. A study of active drivers showed more tested positive for drugs that may impair driving (14 percent) than did for alcohol (7.3 percent). Of the drugs, marijuana was most prevalent, at 7.4 percent, slightly more than alcohol.
Drivers caught driving impaired can expect the impact of a DUI arrest to include jail time, fines, fees, DUI classes, license suspensions and other expenses that can exceed $10,000 not to mention the embarrassment when friends and family find out.
Funding for this checkpoint is provided to the Brentwood Police Department by a grant from the California Office of Traffic Safety, through the National Highway Traffic Safety Administration, reminding everyone to 'Report Drunk Driver – Call 9-1-1'.