After being open for only a week, BART is confirming what the rest of East Contra Costa County already knew with the Antioch BART Station which was there was never enough parking planned to meet demand.
Over the past week, many have taken to social media to complain about the lack of parking and questioning why the agency never learned from past problems around parking. They also questioned why a parking garage was never put in over a 1,006 spot parking lot.
Riders have now resorted to illegal parking which has resulted in parking tickets, towed vehicles and contributed to a traffic nightmare. Some are even parking on neighboring streets in residential areas such as Yosemite Drive, Yellowstone Drive, Sunset Drive, and side streets off Larkspur.
In response, Joel Keller, BART Board of Director, said Thursday has called for an all hands meeting on Friday that includes the BART General Manager, Police Department, Engineering Department to address the parking issues and come up with both short-term and long-term solutions.
The parking issues have also prompted both Antioch Police and BART Police to patrol the area.
According to James Allison, BART Media Relations Manager, BART Police have not yet written any tickets, but instead they have issued warning citations. He also reminded riders that as of Thursday mid-morning, there was parking available at the Pittsburg Center Station (157 Bliss Avenue) and Pittsburg/Bay Point Station.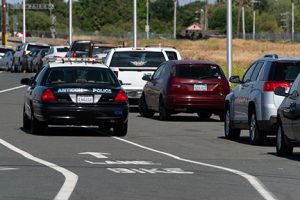 Meanwhile, Sergeant Powell Meads of the Antioch Police Department said on Tuesday, officers wrote 3-moving violations and 21-parking tickets on Slatten Ranch Road around the BART station.
"The parking tickets were for cars parked along Slatten Ranch Rd that blocked the designated bike lane.  Two cars that were illegally parked were also towed because their registration was found to be expired well in excess of 6 months," said Meads.
On Wednesday, May 30, Antioch Police they wrote 9 moving violations and 21 more parking citations for the same offense noting that their only enforcement was on the public roadway outside the BART facility.
Keller, explained that Friday's meeting would begin the conversation to work on both short-term and long-term solutions including possibly leasing about 500 spaces at the Somersville Towne Center Mall in the City of Antioch while providing a shuttle service.
He said they are also looking at neighboring land to see what could be done including looking at an Oakley Road option which would help residents of Oakley better commute to BART. The vacant land around the BART station along the Antioch and Oakley border could also be a temporary parking option but noted he would need the BART boards approval to add parking.
"We have to do something out there," said Keller. "We are a victim of our own success in East County. Everything is on the table from more signage to both temporary parking plans and long-term parking plans. Before the project shuts down, I want to address all the outstanding issues that need to be taken care before we close out the project."
Keller says the cars parking along the bike lanes are dangerous and could result in a fire.
"We have to find ways to help people accommodate the system. We are looking at parking spaces we can lease from private retailers and are working with the community to accelerate this," explained Keller. "I think we can identify different parking opportunities. The turnout has been amazing at the station."
Keller noted that on Tuesday, the BART to Antioch ridership was 3,451 entries with 3,571 exits, but noted they only planned for about 2,800 entries each day.
"We are suffering from an abundance support and now find away to mediate the parking. Hoping to announce some of the strategies we hope to implement," said Keller. "BART has a real opportunity to relieve Highway 4 as we take a 1,000 vehicles off the roadway, we are going to have a real conversation at Friday on noon for a short-term, long-term program."
To add a parking garage, Keller said parking costs between $50,000 and $60,000 per space to construct and there were not the resources available in the BART to Antioch extension budget.
BART Director Debora Allan had a different take saying the public should be angry at the lack of parking and should continue to speak up in the media and complain. She explained how there is not enough parking at any of the four stations in her district from Livermore to Lafayette which includes Concord and it seems to be an issue that was not going away.
"It takes the public standing up pounding their fist to get BART to move something up the priority list," said Allen who is encouraging the public to complain publicly, such as the security camera issue and the needle and drug problem that hit the media.
Allan also added that she hopes BART PD is out there blocking vehicles from parking in the bicycle lanes and police were enforcing traffic laws.
The parking issue has also made things difficult for Tri Delta Transit has had to use extra caution in and around the station.
"Parking along Slatten Ranch Road has presented some challenges to our bus operators as cars are encroaching on the travel lane. However, a bigger concern is vehicles using the bus lanes near the front of the station to drop off passengers. I addition to blocking the egress of buses, it presents a safety concern," said Mike Furney.
According to Furney, for those who want to take Tri Delta Buses into the Antioch Station can do so from both Brentwood and Oakley with Route 300. From the Brentwood Park and Ride, it's a 35-minute trip with 1-stop in Oakley.  From Oakley, it's a 15-minute trip.
Antioch Mayor Sean Wright explained he and City Manager Ron Bernal have had talks over the past several months with BART representatives on finding a temporary short-term and long-term solution citing that the parking situation was a known issue and that more spaces need to be made available.
"It's not okay for people to be parking in the bicycle lane and creating a safety hazard. I continue to advocate for improvements of the bike lane before a serious injury occurs," said Wright. "Whether its working with neighboring property owners on leasing space for parking or local businesses, this is an issue that will have to be worked out going forward. It is frustrating that they never planned to meet the parking demand."
To help provide some relief to parking, BART is pushing riders to use the Scoop to BART program which is offering guaranteed parking until 10:00 am for carpoolers. The app connects neighbors and co-workers to fill seats in vehicles already driving to BART stations. The Scoop to BART program helps to get more people to the station, in fewer cars.
To participate in the Scoop to BART program, download and register with the free Scoop app for iOS or Android at takescoop.com. Type in the BART station name, and schedule a ride either before 9 pm the night before the morning commute or by 3:30 pm for that evening's commute.  Shortly after the deadline, Scoop notifies commuters who have matched with one of their 100,000+ users, and provides a guaranteed ride home for passengers unable to be matched into a carpool for their return trip. Scoop coordinates with BART to help verify carpoolers and works with BART police to ensure smooth operations every morning.
For more information, visit rideshare.511.org, BART.gov/carpool, or TakeScoop.com/bart.