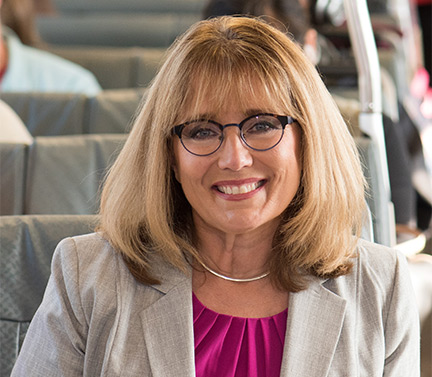 Findings of BART Staff to be Presented at Board Meeting Thursday
OAKLAND, CA — The San Francisco Bay Area Rapid Transit (BART) can legally restrict panhandling and the solicitation of money within its paid areas — on trains, platforms, and inside stations – according to the findings of BART staff that will be presented to the full board of directors on Thursday.
BART staff will present the research at the request of Board Director Debora Allen, who brought the issue forward in August in response to mounting complaints from riders about unwanted solicitations on trains and in the stations. At that time, a representative from the ACLU insisted banning panhandling within BART would be a violation of the First Amendment rights of the panhandlers.
The ACLU argued that the act of asking for money is a protected expressive activity that could not be prohibited on what they considered public BART property. They cited the legal case of Sacramento Regional Coalition to End Homelessness v. City of Sacramento, where the courts ruled against the city's attempt to ban panhandling on public streets, sidewalks and within 30 feet of a public transit stop
But according to the research to be presented by BART staff Thursday, areas inside the BART fare gates are considered a non-public forum.  Contradicting the conclusions of the ACLU, BART's legal staff found the agency is legally able to restrict panhandling and/or solicitating in paid areas so long as the restrictions are "reasonable and viewpoint neutral." The restrictions "must also be sufficiently defined to prevent arbitrary or discriminatory enforcement", according to the presentation.
Areas outside the fare gates are considered under case law to be designated public forum. Currently, entertainers who obtain a free permit from BART are allowed to perform in designated public forums.
The findings come as no surprise to Allen. "I wasn't the first one to think of this," Allen said. "Five of the ten largest transit systems in America all prohibit panhandling and/or solicitation inside of their paid areas. New York, LA, DC, Atlanta, and Chicago all have ordinances.  There is no reason why BART shouldn't make it six, as we are the fifth largest transit agency in America. People come to San Francisco from all over the world and they are shocked by what they see on our transit system."
Surveys have found that an overwhelming majority of the riding public would like BART to intervene and stop the solicitation and panhandling.
Here is a sampling of recent feedback from riders that Allen has received:
"Many of us would like to live in a civil society, and there have to be limits on what is considered acceptable and civil behavior.  The quality of life on BART and in this area have gone down the tubes. I used to ride BART all the time.  It was my public transport of choice, but no more." Marc from Oakland
"There is no need to allow panhandlers for any reason. My husband and I (both seniors) take BART frequently and are accosted by panhandlers…. Most of our senior friends will not take BART at all, daytime or night, due to panhandling and security concerns". Cindi from Berkeley
"You've got to stop on-train and on-platform panhandling and passenger abuse." Michael from Walnut Creek.
"Once I've paid my fare, I feel that I am in an area that is protected from the intrusions of others who are trying to do more than being transported to a location." Gary from San Ramon
"Buskers often practice their craft in the paid area of BART. Why then couldn't an itinerant seamstress or art therapist? IF BART allows buskers within its paid areas, you open the door to many more people with other skills to use BART's paid areas to seek money for their skills." Bob from San Francisco
"Simple Answer: No solicitation on cars or platforms where riders are trapped or have little egress." Joy from Concord
"People … should not be subjected to harassment or downright intimidation during their commute." Lisa from San Mateo
"I ride BART five days per week from Millbrae to SF. I'm in favor of banning panhandling in paid areas and especially on the trains. Please continue to transform BART into a more peaceful and simple experience for commuters" Kerri from Redwood City
An ordinance banning panhandling in paid areas also has the support of the BART Police Officers Association. Without an ordinance, officers are not able to intervene in the almost daily panhandling activity on trains, platforms and in stations.
"It's time to bring order, respect and a greater sense of safety to our transit environment at BART," Allen said. "Only then will we see our lost ridership return to choosing transit over cars."
---
BART Board of Directors Meeting
October 24, 2019 at 9:00 a.m.
BART Agenda: Click here
To Stream the meetings or watch previous meetings, click here